Topics in this edition of the mailbag include CBA discussion, Chicago's veteran defensemen, arbitration walkaway rules, which key RFA will be next to sign, Florida's offseason spending spree, the Patrick Marleau trade, Jake Allen's trade value, the slow summer for the Kings, Pat Maroon's future with St. Louis, and the failed Nazem Kadri to Calgary trade.
This is the back half of our mailbag covering the questions from two weeks ago.  Click here to read the first half.
@K9GY: When RFA & GM are at different salary numbers….the easy way to solve it is….make base salary at lowest dollar figure and the rest performance based…
It's a bit of a unique idea but it's not one that is permissible in the CBA.  Article 50.2(C)(2) of the CBA states that the only players that are eligible for performance incentives in a contract are as follows:
(i) Players with Entry Level SPCs under Article 9 of this Agreement;
(ii) Players aged 35 or older as of June 30 prior to the League Year in which the SPC is to be effective, who have signed a one-year SPC for that League Year; and
(iii) Players who are "400-plus game Players" for pension purposes, and who: (i) in the last year of their most recent SPC, spent 100 days or more on the Injured Reserve List; and (ii) have signed a one-year SPC for the current or upcoming League Year.
Restricted free agents don't fall into any of those categories so the idea of a bonus-laden deal with minimal guarantees isn't an option here.  It's also hard to think the NHLPA would sign off to putting something like this in the next agreement either.
skogs14: What's the likelihood that the Blackhawks find a taker for Keith/Seabrook or Anisimov? What kind of return could you expect?
These players can be put into three separate categories.  Not only could Chicago find a taker for Duncan Keith, they'd also get a good return.  He's not a true number one option anymore but he can still play top-pairing minutes and at a $5.538MM cap hit, he isn't really hurting a team cap wise.  That could change over the final four years of his contract but there is still tangible trade value right now (a top-four defender plus another asset at a minimum) if they wanted to deal him.  That said, I don't think they want to.
As for Brent Seabrook, they'd probably like to get out from under that contract.  He's more of a number four option at this point and with five years left at $6.875MM per, that's not a deal any team is going to want to assume.
A week ago when I originally had this question answered, I had Artem Anisimov as being the most likely to be dealt when his $2MM signing bonus was paid.  That wound up happening.  I thought they'd be able to get a mid-round pick or similar prospect as well as a player back.  That didn't quite happen as they wound up with just Zack Smith (and, perhaps more importantly, $1.3MM in cap space).  It's an okay deal for them as Smith fits better in the role that Anisimov was likely to fill but they certainly lost the more talented player in the swap.
Greg S: For teams up closes to the cap ceiling, what happens if an RFA with arbitration rights is given more money than the team can spend, or would force a trade to be made in order to have him on the team? Can the team refuse to sign him? Or would you have to sign them, then waive them?
Teams do have an option to walk away from a player if they feel an arbitration award is too high although there are rules on how they're used.  The threshold for 2019 is $4,397,832; the amount increases annually by the percentage increase to the league minimum salary in the preceding season.  Teams are also limited by the number of arbitration awards to their players.  For teams with one or two awards, they can only walk away from one.  Three or four awards opens up a second walkaway option while a team with five awards (which is extremely rare) has access to three walkaways.
There's still hope for teams where the award falls under that threshold though.  Teams can go over the salary cap by 10% (though there are special rules for what counts against that cap…I'll spare you the minutia of that one) so even if an award puts a team over the Upper Limit, they'd still have a couple of months to make a corresponding move as they don't have to be in cap compliance until right before the regular season gets underway.
pawtucket: Who will be the first high-profile RFA to sign (not named Aho)? Are they all playing the waiting game to see who gets what for leverage?
I figured it was going to be a long game of chicken all summer long and Sebastian Aho signing quickly doesn't really affect that all that much other than giving teams a bit of a baseline to work with.  The only leverage at this point is to not sign and hope the other side gives in which is another reason why a lot of these deals are going to drag out this summer.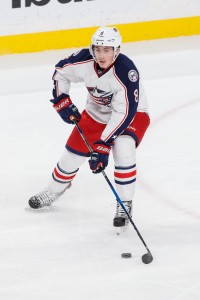 As for who may be the next one to sign, I think it's going to be a defenseman.  There are enough forwards out there that there are going to be a lot of comparables to work with.  That isn't the case on the back end as Charlie McAvoy and Zach Werenski are the only top pairing ones that remain unsigned.
So I'll take Werenski for being the next to sign.  Columbus has plenty of cap space and with so many pricey players leaving, they have the ability to frontload a contract without worrying about how it affects their overall budget.  He's basically in a class of his own this summer (there is a drop-off between him and McAvoy) so there shouldn't necessarily be a desire to wait it out to see what others get.  It may still take some time but he'll get a deal done before the other forwards do.
Mark Black: Are the additions of Bobrovsky, Connolly, and Quenneville and a full uninjured season of Trocheck enough to get the Panthers back in the playoffs? And how much will they regret that Bobrovsky contract next year when they are paying goaltenders 13+ million and still need to re-sign or replace Montembeault, Hoffman, Weegar, and Dadonov?
Let's add Anton Stralman to that list of additions as well.  I know his contract has been ridiculed for the high price tag but he brings some stability to a back end that hasn't had a whole lot of it.
I'm confident in calling them a playoff team.  It may just be a Wild Card spot but they should be a pretty safe bet to get in.  Sergei Bobrovsky is worth several wins on his own, even if he plays like he did with Columbus in the regular season last year (below his usual level of performance).  Assuming the team stays healthy, that's probably enough to get them in right there.
Then there's the offense which is among the best in the East.  This was a top-ten group despite Vincent Trocheck's injuries last season and it's basically the same group coming back.  Even if Mike Hoffman takes a bit of a step back after a career year, the continued development of players like Trocheck, Aleksander Barkov, and Jonathan Huberdeau should help offset that.  They'll be in good shape.
As for a year from now, I don't see Samuel Montembeault looking for much of a raise.  To be honest, I don't think he's in the NHL next season and that their backup goalie isn't currently in the organization (they're poised to jump on the waiver-eligible youngsters if they so desire).  MacKenzie Weegar's next deal shouldn't be too pricey either.  Yes, they'll probably be forced to pick to keep only one of Mike Hoffman or Evgeni Dadonov but to get a franchise goalie, that's an acceptable price to pay next summer.
GBear: Are you as puzzled as I am that Carolina would take on Marleau's full contract for this season instead of using that money to acquire a top-6 forward? The pick they got in the trade with the Leafs will likely be a low first rounder, seems to me that they could've that $6.25MM for a better asset.
The $6.25MM cap hit isn't as relevant here as the Hurricanes probably aren't going to be spending right to the Upper Limit next season.  As a result, the actual cost ($3.833MM over the next two years) is what's really at play.  That's worth a middle-six winger in this free agent class.  Over the long haul, I think I'd rather have the first-round pick, even if it is going to probably be towards the back of the first round.
Carolina's prospect pool isn't as deep as it once was as they've started to graduate some of their younger players in recent seasons.  I also believe the pick is a better trade asset if they need to make an in-season move.  If they need a key rental to put them over the top, that's a piece that can be included.  It's also something that can be dangled for a younger player that's under team control for a few years that lines up well with their young core.
jighost: It does not appear the Blues have any intention of trading Jake Allen at this time. If that changes, what kind of trade value do you think he has? + or -?
I wouldn't say that Allen has negative value in the sense that St. Louis would have to attach an asset to move him.  That's reserved for the really bad contracts around the league and Allen, though he has underachieved for the most part, is nowhere close to being in that category.
Having said that, his value wouldn't be all that high either.  The starting goalie market is more or less non-existent at this point and his $4.35MM AAV is too much for a backup in most cases.  With Jordan Binnington's long-term upside still in question considering he still has less than a full NHL season under his belt, Allen's probably in about the best situation he could be at the moment.  If the Blues ultimately change their mind and decide they want to move him, next June seems like the right time to do so when a team might prefer him as a short-term option over going after a free agent.  How he fares in 2019-20 will ultimately determine what they'd be able to get in return.
jgimondo: What are the Kings doing? We sucked last year and we have added none to make us better?
Officially, their stance is that they hope a new head coach can get some of their veterans going again and that should get them back in the mix for a playoff spot again if all goes well.  Unofficially, they're stuck between the proverbial rock and a hard place.
The Kings aren't good enough to be in contention and if their veterans play closer to the level they can, they won't be bad enough to squarely be near the top of the lottery odds either.  A small addition or two isn't going to move the needle either way so GM Rob Blake is content to stand pat at the moment.
I happen to agree with this approach.  Could he sell off some of his veterans right now?  Probably.  However, the returns wouldn't be particularly ideal; they'd be selling low.  He's banking on some of them rebounding and boosting their trade value for an in-season swap.  There's some risk in that strategy as it's harder to move bigger contracts during the year than it is now but the potential reward of a better return outweighs that risk.  I think patience is the right play here.
Paul Heyman: Does Pat Maroon re-sign with the Blues?
If all he's able to get is a one-year deal, then a return to St. Louis would seem like a suitable outcome provided the asking price is around his $1.75MM salary from last season.  The same arguments for him taking a one-year contract last summer would apply as he'd be able to play closer to home, while he'd be a good fit in their bottom six.  Sticking around with the defending champions is rarely a bad idea either.
However, at this point, it sounds like Maroon is seeking a multi-year pact and with some of the younger forwards the Blues have, that may not be the smartest move for them.  His situation is one I could see taking a little while longer to play out.  I think he'll get a two-year deal from someone and wind up elsewhere next season.
geoffrey1201: Kadri to Calgary for…???
There have been varying reports about what the full deal that would have sent Nazem Kadri from Toronto to Calgary but the common element in each of those reports was defenseman T.J. Brodie.  However, Kadri used his partial no-trade clause to block the deal, citing that he believed doing so would help his chances of remaining with the Maple Leafs.
Instead, as we know, Toronto GM Kyle Dubas turned his focus towards another rental defender with the acquisition of Tyson Barrie.  Considering the Avalanche retained on half of his contract (something that the Flames probably wouldn't have been able to do on Brodie with their cap situation), the initial veto from Kadri arguably worked out quite well for the Leafs.
Photo courtesy of USA Today Sports Images.