Topics in this edition of the PHR Mailbag include what's next for New York's teams, finding a fit for Jake Gardiner, offer sheets, Rasmus Ristolainen's future in Buffalo, Ryan Dzingel, Nikita Gusev's trade market, Niklas Kronwall's future, and the latest on Calgary's arena situation.  As we've done over the past several mailbags, we'll run another edition next weekend so if your question doesn't appear here, look for it then.
acarneglia: Do the Rangers trade someone, like Kreider or Shattenkirk, or buy someone out, like Smith or Shattenkirk, to get more cap room to sign their RFAs?
@DAN35NY: Will the Rangers make more moves and what do you see who can be moved?
If extension talks with Chris Kreider go nowhere, then he'd become a logical trade candidate.  While some may want to wait until closer to the deadline to deal an impact rental player, I still like the idea of moving him now.  They'd get a sizable return and alleviate some salary cap concerns.  Of course, an extension is still preferable but a Kreider trade isn't a bad Plan B.
Other trade candidates would be winger Vladislav Namestnikov and center Ryan Strome.  Namestnikov ($4MM) hasn't produced like he did with Tampa Bay and with their young incoming wingers in Kaapo Kakko and Vitali Kravtsov, the odds of him getting more of a chance to produce.  They'd be selling low but his value may only go lower if his role is lessened when the season starts.  Strome ($3.1MM) was decent last season but if they want more playing time for their young centers, he could be expendable.  However, given what his trade value was last season, they shouldn't be expecting too much in return.
I think they'd like to go this route over a buyout to save the salary cap implications down the road.  If they do have to that way though, it's basically a coin flip.  Buying out Brendan Smith is the lesser of two evils (particularly from a PR perspective) but he can go to the minors after clearing waivers whereas Kevin Shattenkirk (NMC) can't.  If GM Jeff Gorton covets greater in-season flexibility, then maybe it's Shattenkirk who goes knowing that Smith can go to Hartford to free up a spot later on if needed.  That's a last-ditch resort though.  Pavel Buchnevich's arbitration hearing is near the end of the month so they still have a couple of weeks to work with.
Pawtucket: Where does Gardiner best fit?
In terms of pure fit (money aside), Montreal and Winnipeg stand out as good options.  The Canadiens lack a legitimate top-four option on their left side, especially one that provides a punch offensively.  Winnipeg's left side features Josh Morrissey and not a whole lot else.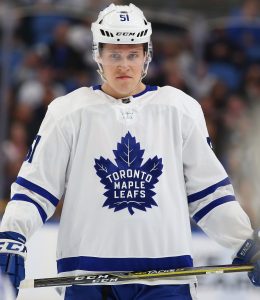 However, neither of those teams realistically have the type of money that Gardiner is believed to still be seeking.  To be honest, not a lot of teams do which is part of the reason that he's still sitting out there nearly two weeks into free agency.
In terms of teams that have a vacancy and cap space, the Kings stand out as their left-side depth is shaky but they're not really in a position to be adding veteran help at the moment as they're in a soft rebuild.  The Devils don't really have an opening this season on their left side but with Andy Greene and Sami Vatanen a year away from UFA status, Gardiner would represent a nice hedge against them leaving town.  I thought if the Flyers were to trade Shayne Gostisbehere that Gardiner would make some sense as a replacement but it doesn't appear as if they're moving their young defender which takes them out of the equation.
At this point, Gardiner may want to consider a one-year pillow contract in the hopes that staying healthy will alleviate some concerns about his back.  That would also expand his market a bit more.  But right now, there really isn't a great fit for him.  I like Winnipeg the most here but they'd need to clear out another contract first (or sign Kyle Connor and Patrik Laine to cheaper than expected deals).  This has already dragged out longer than expected and it may take a while yet for something to get done.
nk: If the Isles do not offer sheet Marner or Laine, what move(s) do you expect them to make this summer?
@billagave: What is next move for NYI?
I don't expect a big offer sheet coming from them.  To be honest, I think they're pretty much finished beyond re-signing their RFAs, headlined by Anthony Beauvillier.  That will leave them with a fair bit of in-season flexibility, even if they opt to give Beauvillier a longer-term deal.
If they do want to tweak a bit more, I believe they'll look at upgrading their center depth.  Someone like Derick Brassard makes some sense on a short-term deal.  There's a middle-six role available for him and it would be a pretty low-risk proposition overall.  Brian Boyle anchoring the fourth line would make some sense as well and GM Lou Lamoriello has already traded for him once before.
Depending on how the UFA market shakes out on the back end, there could be an opportunity to cash in on some of their surplus defensive depth.  That market is certainly developing slower than expected though so anything like that may come later in the summer or even closer to training camp.
thefenwayfaithful: Why aren't we seeing more offer sheets this year? I understand everyone wants to "play nice" but with so many teams up against the cap and unlikely to match, it's bizarre that no one but Montreal has tried to take advantage. If you have the opportunity to put out an offer sheet on a guy you want, the worst case scenario is you're forcing a team to tie up cap space giving you a deadline advantage when they run into more cap challenges. Slims down the competition. Maybe I'm too cutthroat…
Offer sheets rarely actually yield the player a team is coveting so for some teams, they just decide that there isn't much point to trying.  You can decide for yourself how much credence you lend to the notion that there is an agreement between some GMs to not engage in those either.
I think part of the challenge this year is figuring out a threshold where a team is comfortable paying the picks and getting the player at that price.  Look at what Montreal did.  The offer sheet for Sebastian Aho was clearly crafted to minimize the compensation as it was clear that they didn't want to go into that next tier.  They were largely ridiculed for that despite it being the third-largest offer sheet in league history and the highest ever in terms of AAV.  If someone wasn't willing to go higher for Aho (if they were, he'd have signed with that team instead of the Canadiens), how many are going to jump into that next tier for any of the remaining free agents?
On top of that, how many can afford to?  The list of teams with cap space at or greater than $10MM is pretty small when you factor in players that still need to be re-signed.  Not all of them have the draft pick capital to present a substantial offer sheet either.  The stars just don't seem to align here.  If there's going to be another offer sheet, I think it's going to be at the lower tier (someone like Brendan Lemieux of the Rangers or Marcus Pettersson of the Penguins, players on cap-strapped teams that won't command expensive deals in terms of draft pick compensation), not a top-end player.
sabres3277: The Sabres: Is it still possible that Ristolainen could be traded for a forward? I like the moves so far but I think they need to add some grit up front or acquiring a player in a trade. What do you think?
While their offseason additions (Colin Miller and Henri Jokiharju) make it more of a possibility that Ristolainen could be on the move, I still wouldn't classify it as a likely outcome.  For starters, Jokiharju is waiver-exempt and could start in the minors next year.  Miller and Brandon Montour (their other longer-term right-shot option) still have some upside but neither have really been asked to play top minutes so far.  While Ristolainen may be better suited for the second pairing, trading him for a forward takes away a significant security blanket.
It's believed that they were asking prospective coaches during their interview stage how they'd get Ristolainen back at the top of his game.  I know there are reports saying he's available but I think it's more of a case of they're listening to offers and not actively trying to deal him.
You had initially mentioned Micheal Ferland as part of your question but as we now know, he's off to Vancouver.  He'd have made some sense as a physical player that can score with the latter element being the more important.  Of the pickups that the Sabres have made, it's still fair to question whether or not they'll be able to score enough.  If they can find a way to free up enough room to sign another free agent (they still have a few restricted free agents to re-sign that will eat up most of their cap room), adding scoring depth would be my priority over grit.
M34: What's with the hate for Ryan Dzingel? The biggest knock on the guy is that his production dipped when his ice time and exposure to top line guys went down. Seems that would be the case for anyone, doesn't it? One could make the case that even the leagues' biggest stars would suffer a decline in production if they were relegated to third line minutes with third line talents around them.
What I'm getting at is, as an Avs fan, Sakic's moves tell me that he thinks Burakovsky and Donskoi are ready to step up productivity with larger roles; why not go get Dzingel who has already proven he can do that? Doesn't make a lot of sense to me.
Dzingel's track record of success isn't the deepest so I'm not sure how proven he really was in the eyes of general managers.  He basically has two seasons of above-average production under his belt and in one of those, he wound up being a healthy scratch at one point in the playoffs.  It's safe to infer that those struggles played a role in his market being pretty soft.
Just because he produced like a top line player with the Senators doesn't mean that he is one.  Someone had to play big minutes for them and he got the opportunity (and, to his credit, made the most of it).  However, that role wasn't available in Colorado or elsewhere.  In terms of having success in a secondary role, there are arguably as many question marks as there are with Andre Burakovsky and Joonas Donskoi.  His output in that situation is still somewhat spotty.
Personally, I'd have signed Dzingel over trading two pretty good draft picks for Burakovsky, even if Dzingel's $3.375MM AAV with Carolina winds up being a bit higher than what Burakovsky ultimately gets.  He wouldn't have been a bad fit in Colorado to give them some extra depth but I suspect their focus is to get Mikko Rantanen and some of their other RFAs under contract first to see how much budget room they ultimately have before pursuing other free agents.
The Mistake of Giving Eugene Melnyk a Liver Transplant: Is the fact that Gusev is a UFA after this next contract (even if it is only one year) and that he would have to be protected in the expansion draft by any team (other than Vegas who is exempt) hurting his trade market? Also, we already saw how they deftly maneuvered in their own expansion draft (really the only mistake was drafting Oscar Lindberg over Antti Raanta), how might Vegas exploit the fact that they are exempt? I am assuming that they are already planning this.
There are a few factors that are holding back Nikita Gusev's trade market.  While he has lit it up in the KHL, he has no track record of NHL success to bank on.  He's also on the smaller side and there are still teams that have reservations about smaller forwards.  I don't think that expansion is an issue here as the term he's believed to be seeking (two years) would have his contract expiring just weeks after the draft.  He probably wouldn't realistically be under consideration to be taken as a result.  The fact that Vegas does have some cap issues doesn't help their case either as teams will be trying to leverage that in their favor.  That's what's leading to a slow trade market for him thus far.
As for how the Golden Knights can exploit their exemption from losing someone to Seattle, I don't think they'll be able to do much.  They're going to be a capped out team for a while so it's not as if they'll be able to bring in a few players for picks or prospects; they won't be able to afford their cap hit.  They might be able to do that for a player or two but they won't be able to exercise a whole lot of influence on that draft.
@Choffecker23: Is Kronwall retiring and do you Stevie Y will buy anyone out?
By all accounts, Detroit is approaching things with the expectation that Niklas Kronwall will indeed retire but no official decision has been made yet.  With the way he played in 2018-19, the 38-year-old blueliner certainly made a case that he can still perform at a reasonable level.  The Red Wings hedged their bets by bringing in Patrik Nemeth in free agency but there's still room for Kronwall if he wants to return.
As for buyouts, the ship has sailed on that opportunity for Detroit.  The primary buyout window closed at the end of June and while there is a secondary window that opens up later in the summer for teams that had players file for arbitration, the Red Wings didn't have anyone actually file so they are restricted from buying anyone out the rest of this offseason.
@RWMichaels92779: Is there any new arena update on Calgary?
City Council recently approved funding for a project that includes a 'multi-sport field house'.  When you look at the Calgary sporting landscape, it's relatively safe to infer that they're speaking about a new arena for the Flames.  Formal discussions with team ownership have yet to begin though.
What will be worth watching for is who would own the facility.  The chairman of the committee indicated back in April that the expectation is that the city would own the arena, meaning the Flames would merely be tenants, similar to their current setup.
While it's encouraging that some funding is set aside, there's a long way to go yet.  But at the very least, it's a start.
Photo courtesy of USA Today Sports Images.