Brian Boyle is a player that has been in high demand on multiple occasions at the trade deadline.  Despite that, his market has been slow to develop this summer.  Let's take a closer look at his situation.
While Boyle has been coveted by quite a few teams in recent years, it also means that he has bounced around a lot.  Over the past three seasons, he has played for four different teams.  Each of those squads have brought him in for the same few reasons.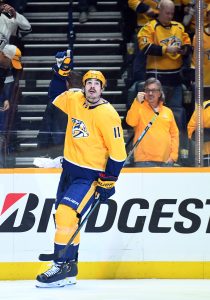 The 34-year-old has been effective at the faceoff dot for most of his career while also playing a regular shift on the penalty kill.  Although teams have been trending more towards speed on the fourth line, Boyle has been able to adapt and be effective.
Look no further than last season for evidence to that effect.  He collected 18 goals between New Jersey and Nashville (who added him near the trade deadline), the second-best mark of his career.  While it's notable that his 14.6 shooting percentage is well above his career average (9.3%), he has scored at least 13 goals in each of the last five years.  That's pretty good production from a player towards the bottom of the lineup.  Accordingly, it stands to reason that he'll wind up somewhere before training camps get underway in September.
Potential Suitors
There are two types of teams that are likely to have interest in Boyle at this point.  Contending teams with enough cap room may want to add him now over trading for him midseason while rebuilding teams looking for some veteran leadership (and a chip to play at the trade deadline) should also be inquiring about him.  Looking through the league, the majority of the potential fits appear to be in the East.
The Bruins lost Noel Acciari to Florida this summer and while they have other players that can fill that spot from within, Boyle's the type of player they could conceivably look to acquire for depth at the deadline so if there's a way to make it work, why not sign him now?  The tricky part will be the RFA contracts for defensemen Charlie McAvoy and Brandon Carlo as until those are solved, it's highly doubtful Boston will be looking to add anyone else.  The Islanders are known to have some interest in center depth after losing Valtteri Filppula to Detroit in free agency.  GM Lou Lamoriello brought him in while he was with Toronto back in 2017 as well.  Edmonton is hoping to get back into the playoff picture and if they intend to deploy one Leon Draisaitl or Ryan Nugent-Hopkins on Connor McDavid's wing, there could be an opening for someone like Boyle as well.
In terms of teams that could view him as short-term help with an eye on flipping him later in the season, several look like possibilities.  The Blue Jackets haven't really replaced Matt Duchene who left in free agency while the Kings could have a spot in the lineup as well.  Both teams are currently being viewed as likely to miss the playoffs which would make him a trade candidate before too long.  Boyle was also a very popular player in New Jersey and while they don't need more center depth, it wouldn't be shocking if they found a way to bring him back.
Projected Contract
Boyle slotted in 30th on our Top 50 UFA rankings, with a projected two-year, $4.5MM contract.  A multi-year pact may be tricky to get at this point although a one-year deal around that AAV is certainly a reasonable possibility.  At this point, the top end of the RFA market may be squeezing out veterans like Boyle (once they sign, teams will have a better sense of what flexibility they still have) but it's a safe bet that he'll have a new team by training camp.
Photo courtesy of USA Today Sports Images.