Topics in this edition of the PHR Mailbag include the Rangers, Phil Kessel, Cody Ceci's future in Ottawa, Philadelphia's offseason movement, what Dallas could do this summer, CBA talk, Jonathan Quick, San Jose's veteran free agents, and the Olli Maatta trade.  As we've done over the last several mailbags, the questions will be split up with the ones not appearing here going in next weekend's edition.
pawtucket: Does Trouba re-sign in New York or did the Rangers just give away a 1st rounder and Pionk for a 1-year rental?
met man: Now that the Rangers have obtained Trouba, what do you see as their next big move?
acarneglia: Which Rangers player, if any, is most likely to be traded at the draft? Do we see Lundqvist finally waive his NTC to chase a ring? Does NYR cut ties with Kreider?
Let's tackle the New York questions together.
While technically, the Rangers didn't get permission to speak to Jacob Trouba about an extension, the belief is that they were on the list of teams that the defenseman gave to Winnipeg that he'd like to be traded to.  I don't think he does that if his intention was to just take a one-year deal and then hit the open market.  It may take some time but I expect them to get a long-term deal done in the range of $7MM to $8MM per season with considerable no-trade protection in the second year and beyond.
I've been saying for a while that New York would be wise to not make big splashes this summer and give their young core another season to see how they integrate into the lineup.  Clearly, they made one of those moves with Trouba but I'm not certain there will be another that's at that magnitude.  They'll try for Artemi Panarin but there's no guarantee they get him.  Dealing away Chris Kreider is a distinct possibility if they can't agree to terms on a long-term deal.  Talks have only been cursory thus far but that should change as we enter the week where some big trades are likely to be made.
As for who else could go, I think Jimmy Vesey could be on the move at some point.  They'll be adding Kaapo Kakko and Vitali Kravtsov next season and all of a sudden, it doesn't appear as if Vesey is going to be part of their long-term plans.  If that's the case, the time to move him may very well be sooner than later.  Henrik Lundqvist has never shown an inclination to leave New York, even when their rebuild was in full force.  Now that they're emerging from that, it's hard to imagine he'll suddenly have a change of heart.
@RMabie215: What trade did Kessel veto?
According to reports, Kessel blocked a trade that would have seen him go to Minnesota in a swap that would have also involved Jason Zucker (who now has essentially been dealt twice only to see the trade fall through).  Jack Johnson and Victor Rask were also suggested as players potentially in the swap but Pittsburgh has since dealt Olli Maatta from their surplus of blueliners.  Kessel has an eight-team trade list which doesn't give GM Jim Rutherford much wiggle room to try to move him.
Lately, Rutherford has been talking about how he now expects to keep him and doesn't really want to shake up the core very much.  At least to some degree, I think that's just public posturing.  It's pretty clear that head coach Mike Sullivan isn't Kessel's biggest fan so if the opportunity presents itself to bring in someone that might be a better fit, I expect the Penguins to pursue it despite the recent comments.
JDGoat: What are the chances between a Ceci trade or signing?
I've long expected the Senators to trade defenseman Cody Ceci.  He has been exposed while playing a role that he's just not capable of handling on a night in, night out basis.  I think he can still be a serviceable fourth or fifth defender in the right situation but Ottawa is not the right situation for him.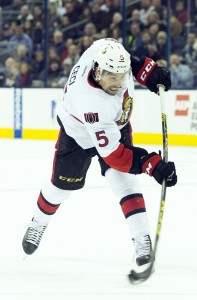 The Senators are clearly in the middle of rebuilding.  Ceci is a year away from being eligible for unrestricted free agent eligibility.  The price tag is going to be approaching the $5MM mark, perhaps even a bit more on a long-term deal (something that might actually hurt his trade value).  This is a situation that logically screams trade from Ottawa's perspective.
I get that Ceci is a bit of a different case.  He's from the area and played his junior hockey with the 67s.  There's a bit of extra attachment to him as a result.  However, they didn't hesitate to move anyone else in this situation so they should be taking that approach with the 25-year-old here as well.
If I'm handicapping the situation, I'll put it at 65-35 in favor of a trade this offseason.  If there isn't a palatable swap available right now, a one-year deal may be the next option with an eye on trading Ceci as a rental player closer to the trade deadline in February.
Fortarnold: Does Chuck Fletcher actually know what he is doing? He has just made three questionable moves in a row at a time when he could turn the Flyers into a legit contender. Two defensemen trending in the wrong direction and paying a non-top tier center near top tier money. At least Hextall had a plan that you could see shaping to form, albeit at a snail's pace, but a logical plan nonetheless.
While some of the moves have been a little surprising, I can see Fletcher's logic.  Matt Niskanen gives them some mobility on the back end, not to mention a bit of a veteran presence which is something their group doesn't have a lot of.  He's not the number two/three player he once was but he can still contribute.  Having to retain part of Radko Gudas' contract to facilitate the move was a bit surprising though.
I think the price for Justin Braun was a little steep but he's a steady player in the right role.  At the very least, if he winds up being more of an extraneous part, there will be a trade market for him as the season progresses where they can get at least one of those picks back.
The contract for Kevin Hayes is a bit of an overpayment but most big contracts given to unrestricted free agents are.  He's a capable second liner in the short-term and once Nolan Patrick develops and surpasses him on the depth chart, they'll be in really good shape down the middle.
The plan appears to be that it's time for them to get back into the playoffs as these are all win-now types of moves.  They're certainly a better team but with the Rangers and Devils also making moves to improve, Philly is probably still going to be in a tough battle to make the postseason.
@JoeWalton9090: Do you see Dallas making a big splash this offseason?
They have enough cap room to sign/acquire one player of note.  That could very well just be re-signing Mats Zuccarello though.  However, there's a higher price to pay to keep the winger around though as the conditional 2020 pick that they owe the Rangers would upgrade to a first rounder.  That could be too steep of a price for GM Jim Nill to pay.  He told NHL.com earlier today that Zuccarello intends to see what's out there in free agency first before deciding whether or not he wants to re-sign.
I could see Anders Lee and Gustav Nyquist being players of interest if they don't bring Zuccarello back.  Lee would give them another legitimate scoring threat while Nyquist would bolster their second line.  I suppose Lee could be called a splash if he signs there.
Having said that, I also wouldn't be surprised if Dallas decides to shore up their depth and uses their money over a few players.  Instead of spending most of their remaining cap room (after Brett Ritchie and Jason Dickinson get new deals) on one player, I could see them signing a couple of cheaper wingers to try to bolster their scoring depth instead of being so top-heavy.  So while they have it in them to make a splash this summer, I think they'll spread the wealth around instead.
The Mistake of Giving Eugene Melnyk's a Liver Transplant: Based on rumors, will there be another round of compliance buyouts with the next CBA? If there was, who would be bought out (other than Dustin Brown, Jeff Carter, Lucic, everyone not named Nurse on the Oilers blueline, & Brent Seabrook)?
What would Jonathan Quick actually fetch in a trade?
A year ago, I'd have thought there would be another set of compliance buyouts but now I'm not so sure.  There aren't going to be significant changes to the salary cap in the next CBA – perhaps some changes to what constitutes HRR but that won't move the needle very much.  Getting the NHLPA to agree to more compliance buyouts would mean a concession on the part of the league and I suspect they're going to want to save those concessions for the one thing they'll want to work on the most, term limits.
In terms of who could be bought out, it all depends on when the CBA does expire.  Does either side exercise their opt-out in September?  If not, we're looking at 2022 with an extra team in the league by then.  It's a bit too much of a hypothetical to handicap at the moment.
As for Quick, I don't think his trade value is all that high as there aren't many teams that are going to be actively seeking a number one goalie right now.  Those that are will look to the open market first and most (if not all) of those teams will find their new netminder there.  Their best bet to trade Quick for value is a midseason swap when a starter goes down with a long-term injury.  That time will come – it always does.
kingcong95: Who is more likely to stay in San Jose, Pavelski or Thornton?
Between the two, I'll take Joe Thornton.  They'd love to keep Joe Pavelski but they spent more on Erik Karlsson than I think they figured they'd have to when they acquired him back in September.  With Timo Meier and Kevin Labanc among those in need of new contracts, they'll be hard-pressed to keep Pavelski around at the type of money they'll need to keep him without clearing out some more salary first.  Braun's trade helps but there is still more trimming to do.
As for Thornton, he has made it clear he only wants to play in San Jose.  He has shown a willingness to work with them to find a contract that fits their salary structure.  He also is eligible for performance bonuses (assuming he signs a one-year deal) which gives the Sharks more flexibility than they'd have with Pavelski.  Thornton will also come a fair bit cheaper.  I wouldn't be shocked if they found a way to keep Pavelski around but right now, the odds of re-signing Thornton are probably higher strictly for financial reasons.
random comment guy: Was there a clear cut winner in the Hawks/Pens trade? I thought giving up the 5th rounder might have been too much. But then again the Pens get a one-year rental essentially.
My first thought is that if you believe the fifth-round pick seems like too much to add on, the deal is about as close to even as it gets.  I don't think there is a clear cut winner in this swap, to be honest.
I like Maatta in Chicago.  He's not a top pairing player like there was once hope that he could be but he's an effective fourth or fifth option.  Getting him with three years of team control at a reasonable rate is pretty good, especially considering all it cost was an undrafted player they signed a year ago and a late-round pick.
From Pittsburgh's perspective, getting a capable depth winger in Dominik Kahun that's still on his entry-level deal gives them someone that could slot in on their second or third line and more than $3MM in cap space to play with for next season.  That's a win-win for both teams.
Photo courtesy of USA Today Sports Images.