The Anaheim Ducks still don't have a head coach for the 2019-20 season, but we now know whoever it is will be leading a much different group. The Ducks are on the edge of a huge roster overhaul, one which might bring plenty of opportunity with it for their young prospect core.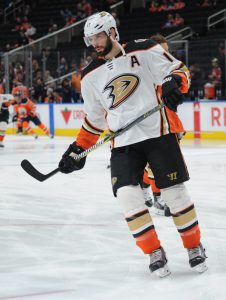 Ryan Kesler won't be back on the ice for the Ducks this season, if ever again, after undergoing a major hip surgery in May. The procedure was completed in part to restore some sort of normalcy to Kesler's daily life and reduce his pain. He had fought through that pain to reach 1,000 games played for his career but was a shell of his former self on the ice and finished 2018-19 with just eight points in 60 games. Despite the three years remaining on his contract, no one should be expecting a contribution from the 34-year old.
Patrick Eaves too is a question mark for the Ducks after playing just nine games over the last two years. The veteran forward was diagnosed with Guillain-Barre syndrome in 2017—a diagnosis that has subsequently been changed to post-viral syndrome—and doesn't appear to be expected to play at all this season. Even if he was to somehow come back, it's hard to expect much from a 35-year old who hasn't played a meaningful stretch of games in more than two years. Eaves has just one year remaining on his contract, but like Kesler is likely headed for long-term injured reserve if the Ducks need some cap space.
That brings us to Corey Perry, who the team is apparently ready to move on from after 14 seasons with the organization. Perry was the 28th-overall pick in 2003 and became a superstar in Anaheim, recording a 50-goal season in 2010-11 to win the Hart Trophy as the league's most valuable player. He and partner in crime Ryan Getzlaf were the faces of Ducks hockey for more than a decade, something that appears to be coming to an end. If Perry's contract was traded or bought out, it would not only open up cap space and salary for the front office to work with, but also another roster spot to use on the talent they have coming up through the system—that's where there's a glimmering silver lining for fans hoping to get back to the playoffs quickly.
All is not lost if the Ducks manage to open up some roster spots. If everyone was healthy and retained, they would have 12 one-way contracts already signed and not much to look forward to next season. But with the above trio potentially out of the mix, opportunity is coming for some of the prospects just outside of the NHL.
For some of those prospects, they've already shown a glimpse of what might be possible.
In 32 games last season Troy Terry recorded 13 points, including back-to-back three-point efforts in early March. The late round draft pick developed into a powerhouse offensive player at the University of Denver and proved he can hang in professional hockey with a point-per-game effort in the minor leagues this year. While the NHL is a different beast, Terry showed enough flashes during his short stint with the Ducks to think he can be a regular contributor as soon as this season.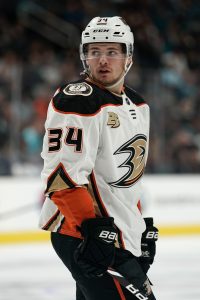 Sam Steel, another highly touted forward that comes with a considerably higher draft pedigree also proved that his junior scoring totals weren't a mirage. He put up 11 points in 22 games for the Ducks and was a legitimate scoring threat in the minor leagues. His 13 points in 16 playoff games were good enough for third in team scoring, and he should push for a roster spot in camp.
It doesn't end there however. The team also has the trio of Isac Lundestrom, Max Jones and Max Comtois ready to push for full-time jobs in the NHL. All three received a taste of the action this season and impressed, strengthening their cases for a spot this fall. There is plenty of time to wait for each of them, but any of the three could be on the roster to start the season, especially if the Ducks make moves to remove some of their other veteran options.
There are big changes coming in Anaheim, and for fans of the team it may be hard to watch familiar faces like Perry and Kesler limp out of town. But make no mistake, their struggles are another player's opportunity and in this case there is more than enough talent ready to seize the chance and continue their development at the highest level. So many in fact that the team could potentially consider other moves to free up space and embrace the youth movement that is coming in California.
Photo courtesy of USA Today Sports Images