Free agency is now less than a month away from opening up and there are quite a few prominent players set to hit the open market while many teams have key restricted free agents to re-sign. Columbus does have a few important restricted free agents, but it's the unrestricted free agents that have dominated the press over the last year.
Key Restricted Free Agents: D Zach Werenski – The defenseman wraps up his entry-level deal and now is expected to get quite a pay raise after making $1.775MM last season. The top pairing defenseman may not have the accolades and numbers that partner Seth Jones carries, but with the way the market has been rising, the 21-year-old blueliner could seriously cash in this summer and could conceivably make even more than Jones' current $5.4MM per year deal. Regardless, Werenski had a solid season for the Blue Jackets, posting 11 goals and 44 points and has scored 38 goals over three seasons, an impressive feat for a young defenseman. Werenski also added a goal and six points in 10 games during Columbus' playoff run this season.
D – Ryan Murray – Other than playing 82 games back in 2015-16, Murray's biggest problem has been staying healthy. Other than that one season, the most games the 25-year-old has played was 66 and that was back in his rookie campaign. The talented blueliner played in 56 games this past season, but was hampered with a back injury for quite some time as well. This is Murray's last year as a restricted free agency as he could become an unrestricted free agent in 2020-21 and could opt to depart. Although Murray has shown talent, Columbus might have a problem handing the former second-overall pick in 2012 a long-term deal if he can't stay healthy. That's why Murray could be a solid trade candidate, most recently to Chicago.
Other RFAs: D Adam Clendening, F Markus Hannikainen, D Scott Harrington, G Joonas Korpisalo, F Ryan MacInnis, F Sonny Milano, F Eric Robinson, F Justin Scott, F Lukas Sedlak, D Doyle Somerby, F Sam Vigneault
Key Unrestricted Free Agents: F Artemi Panarin – The 27-year-old has been everything that Columbus had hoped for when the Blue Jackets traded for him two years ago. Panarin scored 55 goals and 114 points over those two seasons, but it became apparently clear that he had little interest in signing any sort of extension and wished to move on when he hit unrestricted free agency. Rather than trade him away, the team chose instead to hold onto him and bulk up for the playoffs, which did allow Columbus to advance to the second round of the playoffs for the first time ever. Unfortunately, the team has no chance to sign him as he has quickly become the most sought-after free agent, most likely to sign a deal with either Florida or the New York Rangers.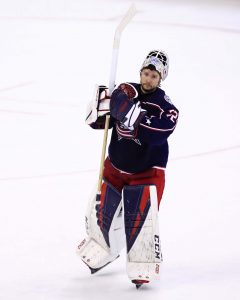 G Sergei Bobrovsky – Unfortunately for Bobrovsky, the team is in the exact same pickle that they are with Panarin. The long-time goaltender has been one of the faces of the franchise for years in Columbus and while many initially thought he just was holding out for a Carey Price-like contract, it has been quite clear that he too intends to leave the Blue Jackets and sign elsewhere with many people believing that he might choose to sign with Florida as well. Regardless, Bobrovsky becomes the most highly-touted goalie on the free-agent market. While his regular season numbers took a minor dip with a 2.58 GAA and a .913 save percentage, the 30-year-old netminder finally showed some skill in the playoffs with a 2.41 GAA and a .925 save percentage in 10 appearances.
F – Matt Duchene – If there is one big-name free agent that Columbus might be able to retain, it will be Duchene, who is at least considering staying with the Blue Jackets. Unfortunately, there are also a large number of teams that are interested in signing him as well, which could make a signing tough. Acquired at the trade deadline from Ottawa for several prospects and their 2019 first-round pick, Duchene added a second-line center presence that helped solidify the team's top six and between the two teams combined for 31 goals and 70 points. The down side of signing him is the team would lose their 2020 first-rounder as well, making it even more of a challenging decisions for the franchise.
Other UFAs: G Jean-Francois Berube, D Tommy Cross, F Ryan Dzingel, G Keith Kinkaid, F Mark Letestu, D Adam McQuaid
Projected Cap Space: Cap space is definitely not an issue in Columbus as the team is projected to have more than $32MM in cap room. The problem is the team is likely to lose all four of their top unrestricted free agents and must find a way to attract other free agents without having to overpay them. However, that will be a challenge for general manager Jarmo Kekalainen, who has done an excellent job in recent years to compete in a small market. Regardless, the team must find a way to add a top talent and hope that its prospect depth can keep the team above water for the next couple of years.
Photo courtesy of USA Today Sports Images.