The San Jose Sharks went all-in this season. A team that was already strong enough to compete for the Stanley Cup decided to go out and acquire Erik Karlsson before the start of the season, sending a huge package of assets to the Ottawa Senators in exchange for the star defenseman. That came just a few months after the team had snatched Evander Kane at the 2018 trade deadline, which had already cost them a fair amount of draft capital. As if that wasn't enough, they then went out at this year's deadline and acquired Gustav Nyquist for another set of picks, leaving them with just one selection in the first four rounds this year and without their first and third picks next season.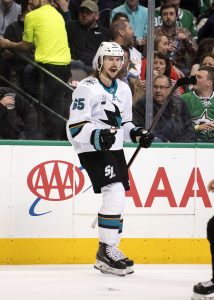 That kind of shopping spree usually leaves a team with plenty of regret if they don't end up winning it all. The Sharks, if you weren't paying attention, didn't win it all.
Still, as San Jose head into the offseason after another disappointing playoff loss, there is still hope. Despite having a relatively bare cupboard of draft picks, and three players on the roster making more than $8MM per season despite being on the wrong side of thirty, the Sharks have an incredible amount of flexibility this summer. That's thanks to a whopping seven players reaching unrestricted free agency, allowing the team to pick and choose who they bring back and for how much.
Obviously, watching Karlsson walk after one year—or Nyquist after a few months—would be frustrating for the Sharks. The same could be said about long-time leaders in Joe Pavelski and Joe Thornton, both of whom are also set to become unrestricted free agents. But within that potential frustration is also an opportunity, one which could result in the Sharks being just as competitive again next season, albeit with a different cast of characters.
Specifically, Karlsson and Nyquist come with more than just a monetary price tag. Both players will cost the team a second round pick if they re-sign, to Ottawa or Detroit respectively, as part of the conditions of their trades. That may end up being a deciding factor if GM Doug Wilson doesn't want to lose any more of his already rare picks. Pavelski and Thornton meanwhile come with age and injury concerns, given how their last few seasons have gone. Both—and perhaps especially Pavelski—are still effective, but Wilson may have to make the hard decision of letting franchise icons leave, as he did with Patrick Marleau two years ago, if they demand too much money.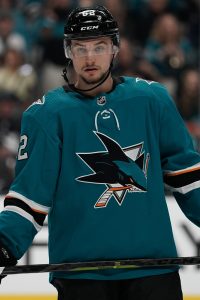 It's that money question that is what makes this summer so interesting for the Sharks. CapFriendly currently projects San Jose to have nearly $25MM in cap space for next season, thanks to just 14 players in the entire organization with one-way contracts. Obviously the team will need to sign several players to fill their ranks, but they aren't forced into anything at the moment. The next wave of on-ice leaders for the Sharks is  going to include players like Kevin Labanc and Timo Meier, but both are restricted free agents who can either be signed long-term or short depending on the rest of the offseason. Neither one has arbitration rights, meaning the team can take negotiations slow if they choose.
Like last offseason, when the Sharks made a pitch to top free agent John Tavares, Wilson can see what the prices are on some of the other top names before backing himself into a corner. Thornton has already said that he would only come back to play for San Jose, while it would be hard to see Pavelski running into the arms of another team without giving the Sharks every chance to match whatever offers come in.
There's nothing good about having such a small selection of draft picks, but the Sharks have done so well over the last few years—Labanc, for instance is a sixth-round pick from 2014 who looks like he may be a 70-point scorer one day—they have enough built into the system to overcome this short lull. It's free agency that will be really interesting for a team that can't seem to get over the hump, and they have more than enough financial ammunition to make it a show.
Photo courtesy of USA Today Sports Images