While the playoffs are well underway, many teams have already started their offseason planning.  What storylines lie ahead around the league in what is shaping up to be a likely busy NHL offseason?  Next up in our Offseason Keys series is a look at the Philadelphia Flyers.
There has been plenty of change in Philadelphia over the past several months.  Ron Hextall was dismissed as GM with Chuck Fletcher taking over.  After a little while, he then let Dave Hakstol go as head coach, promoting Scott Gordon in an interim role.  While this was all happening, the Flyers were battling a litany of injuries between the pipes and underachieving overall.  As a result, they missed the postseason which has led to more off-ice changes.  Gordon is headed back to the AHL with Alain Vigneault taking over as head coach while two new assistants in Michel Therrien and Mike Yeo have been brought in.  Now with all of that off-ice work done, here are the on-ice keys for Fletcher and the Flyers this summer.
Add An Impact Forward
Last summer, James van Riemsdyk was brought in to bolster their attack.  While he didn't have a bad season statistically (27-21-48 in 66 games), his addition didn't have the desired effect as Philadelphia went from a team that was slightly above the midpoint offensively to slightly below.  The good news for the Flyers is that they have plenty of cap space to work with so they will be able to dip back into the UFA market again if they so desire.
After adding a winger last offseason, there's a good chance that Fletcher will prioritize adding a center this time around.  While Sean Couturier has emerged as a quality top liner, there are some question marks behind him.  Claude Giroux can play down the middle but appears to be more effective on the wing at this stage of his career.  Nolan Patrick has the upside to get to that level one day but after a 31-point sophomore season, he's probably not ready for that role yet.  Scott Laughton had a career year but he's probably better served as a bottom six pivot.
While Matt Duchene and Joe Pavelski sit atop the list of unrestricted free agent centers, Brock Nelson and Kevin Hayes could also make some sense as second line options so there are a few options to choose from.  Landing a player from that group would go a long way towards really deepening Philadelphia's attack for 2019-20 and beyond.
Defensive Decisions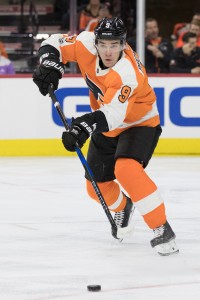 Coming into the season, Ivan Provorov appeared to be in line for an expensive second contract.  He had just completed a dominant sophomore campaign, one where he looked like the potential number one defenseman that every team covets.  He could still ascend to that level but his 2018-19 season saw him take a bit of a step back, creating some questions as he enters restricted free agency.
What is the better route to go?  Does a bridge deal make more sense for Provorov now with the hopes that he'll get a much better contract a couple of years from now?  Does Philly want to wait to lock him up or are they going to push for a long-term pact right away?  Considering their cap room, it seems reasonable to think that they will try to skip the bridge and do a long-term contract but it may make more sense for the 22-year-old to take a short deal and look for the bigger payday in a year or two.
They're also going to have to make a call on Shayne Gostisbehere who had been involved in trade speculation leading up to the deadline.  His point output dipped considerably in 2018-19, going from 65 the year before to just 37.  He won't be winning any awards for being the best defender in his own end but his offensive upside alone is enough to yield plenty of suitors while his contract ($4.5MM AAV through 2022-23) is also enticing.  Fletcher will need to determine if he's part of the future and if not, he could bring back a sizable return on the trade market.
Backup For Hart
Heading into the season, it looked like the Flyers were going to be able to give Carter Hart some time in the minors while Brian Elliott and Michal Neuvirth would hold down the fort in Philadelphia.  That didn't come close to working out as planned as by mid-December, the rookie was in the NHL and was there to stay as he took over the number one job.
Now, the Flyers have to find a backup for him and it's not as simple as some other searches around the league will be.  Given Hart's inexperience, they're going to be looking for someone that has some experience working with a younger netminder while still being able to play a significant workload if the youngster struggles or is injured next season.
With that in mind, Fletcher brought in Cam Talbot before the deadline in what looked like a tryout for that role.  Instead, he only made three starts down the stretch so he may not wind up being the answer after all.  Elliott could also be an option to bring back while there are several other veterans that will be available as well.  While it's only a backup goalie, finding the right one to work with Hart potentially for multiple seasons makes it a bit more important than a typical search for a number two.
Photo courtesy of USA Today Sports Images.