While the playoffs are well underway, many teams have already started their offseason planning.  What storylines lie ahead around the league in what is shaping up to be a likely busy NHL offseason?  Next up in our Offseason Keys series is a look at the New York Rangers.
Back in the 2017-18 season, the Rangers announced that they were entering a rebuilding phase so it didn't come as a surprise to many that they missed the playoffs by a considerable margin this past season.  New head coach David Quinn got an opportunity to play several young players and despite a thinned out roster, they were still competitive most nights.  They enter the offseason with the number two pick after securing a victory in the Draft Lottery but there are several other keys to their offseason.
Kreider Extension Talks
Several impact veterans have been shipped out over the last couple of seasons as they were in or approaching the final year of their respective contracts.  The next in line that they need to make a decision on is winger Chris Kreider who will be in the final year of his contract next season.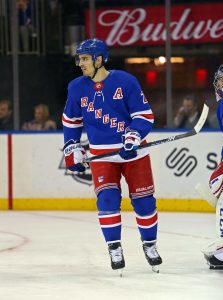 The 28-year-old has been inconsistent in recent years.  At times, his combination of size and speed makes him a real threat as a power forward but at others, he has been more of a perimeter-oriented player that has a penchant for cold streaks.  That complicates things a little bit for GM Jeff Gorton.  There's no denying that he can be a dominant player at times but because of the highs and lows of his play, how much of a raise on his current $4.625MM AAV can they realistically justify?
If the two sides quickly realize that they're too far apart on a contract, Kreider is someone who could plausibly hit the trade block this offseason over waiting to make an in-season deal as they did with Kevin Hayes and Mats Zuccarello.  There would be no shortage of interest around the league in his services though it's worth noting that he has an 11-team no-trade list.  The sooner they find out what it's going to cost, the better it is for them, especially with the cap space at their disposal this summer.  Speaking of which…
Spend Wisely
As a result of moving out several veterans recently, New York has plenty of cap space to work with for next season.  CapFriendly pegs them at just under $64MM committed to 19 players already for next season with winger Pavel Buchnevich standing as likely the most notable restricted free agent to re-sign.  In other words, they're going to have a big chunk of cap space at their disposal in July.
While some expect them to go after a big name player or two, there are some potential drawbacks to that approach.  Doing so will limit the ice time of their younger players while also limiting their flexibility to lock those players up long-term after as their payroll room will be limited.  On the other hand, it's hard to pass up the opportunity to add a core piece or two when the opportunity presents itself.
Knowing that a potential new deal for Kreider will be pricey and that extension talks for promising youngsters Lias Andersson, Filip Chytil, and Brett Howden are only a year away from occurring, Gorton likely won't look to do long-term deals with all of his potential targets.  Finding a buffer player or two to assist in the short-term will also likely be on their target list.  The Rangers have been big spenders in the past and have the potential to do so again this summer which will undoubtedly make them a team to watch for.
Rebuild The Defense
Back when they dealt Ryan McDonagh to Tampa Bay in 2017-18, the status of New York's back end wasn't ideal.  There was a mixture of underachieving veterans and unproven (but promising) youngsters.  Fast forward to today and nothing has really changed.
Marc Staal is a serviceable stay-at-home player but is vastly overpaid for his role.  Kevin Shattenkirk has underachieved considerably after being a big signing just two summers ago.  Brady Skjei had an up-and-down year.  Youngsters Neal Pionk, Anthony DeAngelo, Libor Hajek, and the just-acquired Adam Fox have upside but there are still question marks.  There's the making of a capable defense corps in this group but they will need some reinforcements to take a step forward.
If Gorton decides to look to add some veteran players this summer, adding a top-four defender needs to be at or near the top of the priority list.  That will take a bit of pressure off some of the younger players and lower the ice time for the underachievers at the same time.  New York was near the bottom of the league in goals allowed this past season and adding to that back end would go a long way in helping turn their fortunes around.
Photo courtesy of USA Today Sports Images.