This edition of the PHR Mailbag looks at what's next for the Flyers, Nazem Kadri's future in Toronto, Mike Smith's struggles with Calgary, Ken Holland's situation in Detroit, what Buffalo needs behind the bench, and the vacant Rangers presidency.
Questions that were submitted that aren't covered here will run in a separate mailbag piece next weekend.
FortArnold: Disappointing season for the Flyers. They will have money to spend and most likely need to find an opening in their lineup for Morgan Frost. Where do you see them looking to add to this team and who may be sent packing?
Earlier this month, GM Chuck Fletcher acknowledged that his defense corps could get older next season which is a pretty strong inference that they intend to add to that position.  They have a very strong foundation of young blueliners in Shayne Gostisbehere, Travis Sanheim, Ivan Provorov, and Robert Hagg but none of those players are really ready to be true anchors of a back end at this time.  Aside from Erik Karlsson, there aren't any defenders like that available on the open market so I wouldn't be shocked if they turn to the trade market to get a number two or three rearguard that's signed for a few years.  Doing that wouldn't give them that anchor player but would give them very strong depth throughout the group and as we're seeing, teams with strong defensive depth can still be successful even without a true number one option.
I also see them looking to add a second line center this summer.  Frost or Nolan Patrick should be that option down the road but he's not ready for that role just yet while they probably want to keep Claude Giroux on the wing.  Doing so would also allow them to integrate Frost in as a winger, allowing him to develop without some of the tough defensive responsibilities right away.  They should be able to fill that void in free agency.
As for who could go, I don't expect a whole lot of departures.  I know Gostisbehere has been in trade speculation before but moving him off a down year isn't deal.  Their big-ticket players aren't going anywhere nor will they need to move anyone out for cap reasons.  If they have to trade for that impact defenseman, I could see the 11th overall pick being in play and someone like winger Oskar Lindblom could work as a sweetener in a deal.  But beyond that, I suspect the departures will simply be the players whose roster spots are dislodged by the offseason acquisitions (players like Phil Varone and Andrew MacDonald).
JDGoat: Has Kadri played his last game in Toronto if they lose the series?
I don't think so.  I thought GM Kyle Dubas passed up on the perfect opportunity to deal him last offseason.  They had just landed John Tavares and Ryan O'Reilly had been dealt which left the market for impact centers basically empty.  He was coming off another 30-goal season and had clearly established himself as a top-six pivot.  As a result, Toronto would have moved him at peak value.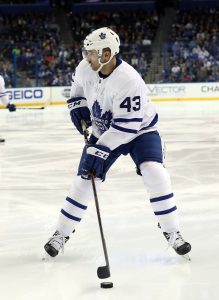 Fast forward to today.  As expected, Kadri had a down year offensively (playing on the third line will do that) and also dealt with a concussion.  And as we all know, his suspension history is starting to be a bit concerning as well.  While I have no doubt that there would still be a significant trade market for Kadri, his value has still undoubtedly dipped compared to last summer.  If Dubas didn't want to move him then, he won't want to move him now.
Yes, the Maple Leafs will need to free up some salary cap room this summer with some big contracts about to hit their books but there are other players they'll look to move to alleviate those concerns.  (Patrick Marleau comes to mind as a trade candidate after July 1st to a team looking to get to the cap floor while spending less than that on salaries.)  Kadri's leash is certainly smaller now but he should still be in Toronto in October when next season starts.
sovietcanuckistanian: How short of a leash does Mike Smith get in the playoffs before they switch him out? He looks a little vulnerable and – on paper at least – seems to be the weak link on a potential Cup contender team. Thanks again sir.
You were onto something with this question (which was asked back when this series was still close).  Smith looked shaky in some moments but I can't put all the blame on him.  Calgary's defense corps is supposed to be one of the top groups in the league and they allowed more than 50 shots in back-to-back games.  I think that made it difficult to make a change.  Sure, he coughed up six in Game Three but he made 50 saves so it's tough to make the case to pull him.  He follows that up with 49 saves on 52 shots the next game which makes it nearly impossible to put David Rittich in for Game Five.  Smith wasn't great at times in the series but he didn't get a lot of help either.
Goaltending was the one big weakness that the Flames had during the year and there wasn't a whole lot they could do about it as no starting goalies were traded throughout the year.  Smith is a free agent this summer and I expect Calgary will go in a different direction with several other starting goalies likely to be out there on the open market.
Connorsoxfan: Why is Holland staying on in Detroit? Haven't there been a ton of Seattle rumors? That's not a realistic option anymore, right?
Seattle is still two years away from starting up so they don't really need a GM or a full-time hockey operations staff for another year.  In terms of other GM vacancies, there's only one in Edmonton and Holland has already informed them he's not interested in that job, per a report from TSN's Darren Dreger (Twitter link).
With really nowhere else to go, why not stay in Detroit?  Holland can use the upcoming season to decide if he wants to stay as an advisor and remain with the Red Wings or if the itch to be a GM returns.  If it's the former, he can stay where he is and if it's the latter, his contract will be up right around the time that Seattle will be hiring and by then, there may be another vacancy or two around the league as well.
sabres3277: Which direction do the Sabres need to go for a head coach?? A veteran coach or someone else??
In this day and age, there isn't much appetite to bring in a veteran coach with the reputation of being a disciplinarian but that's what I think they need.  Their young core needs some structure and can't be allowed to just willfully coast at times which is what happened down the stretch.  It's true that these types of coaches tend to have a short shelf life but let's face it, all Buffalo coaches seem to have a short shelf life.
I think someone like Dave Tippett makes some sense for them.  He has some experience working with younger players but can also crack the whip at times.  It's notable that he hasn't been mentioned in some of the various head coaching searches around the league though so perhaps he's enjoying his time with Seattle and may have some assurances of a role on that staff when the team is closer to debuting.
Whichever route they wind up going, GM Jason Botterill needs to do a better job of supplementing their core.  He has made a couple of moves to help their defense but it still needs work.  The forwards need a better supporting cast to take some of the pressure off.  If those things don't happen, it may not matter who gets hired as a flawed roster can only go so far, especially in a tough division with three of the top teams in the league at the moment.
mz311: With Yzerman now in Detroit, who are the top options to replace Glen Sather as the Rangers' President?
As things stand, it appears the list of options begins and ends with Columbus team president John Davidson.  The long-time Ranger has had success in that role with both the Blues and Blue Jackets and certainly has familiarity with New York during his time with the Blueshirts.  On the surface, I think he'd be a great fit to replace Sather.
Larry Brooks of the New York Post points out that the Rangers haven't been searching for prospective candidates beyond Davidson and Yzerman and aren't even doing due diligence on other options.  That suggests that they're pretty confident that they will wind up with Davidson whenever Columbus is ousted from the postseason.
If that falls through, I wonder if they'd take a run at Trevor Linden who held that position with Vancouver.  He's comfortable with a rebuilding situation having overseen one with the Canucks and didn't deviate from his plan to the point where he left when ownership was reportedly seeking a quicker turnaround.  I think he'd be a good fit in that role for them but it certainly seems like they believe they will wind up with Davidson when all is said and done.
Photo courtesy of USA Today Sports Images.