While the playoffs are now underway, many teams have already started their offseason planning.  What storylines lie ahead around the league in what is shaping up to be a likely busy NHL offseason?  Our Offseason Keys series begins with a look at the Ottawa Senators.
After a rough 2017-18 season, the Senators were expected to struggle mightily in 2018-19.  They received some criticism for opting to not retain their first-round pick for 2019 last summer, instead opting to keep their 2018 selection (fourth overall) which they used on winger Brady Tkachuk.  While they finished at the bottom of the standings, their pick slid to fourth in the draft lottery this week so that decision isn't under as much fire as it would have been had it remained at number one.  GM Pierre Dorion blew up his roster as expected, selling off three core players at the trade deadline to add several draft picks and prospects.  They're very clearly in rebuilding mode but as it turns out, they may very well be making some moves that go against that premise this offseason.
Hire A Head Coach
The first thing that's likely on Dorion's to-do list is to pick a new head coach after Guy Boucher was dismissed shortly after the trade deadline.  Veteran Marc Crawford took over on an interim basis down the stretch and while Ottawa's point percentage didn't jump too significantly (.417 compared to .390 under Boucher), the team looked to be playing with more jump, something that several veterans alluded to as well after being in a very rigid system previously.
Is that enough to justify keeping Crawford in that role?  At 57 and having lost his job quickly the last two times as a head coach in Los Angeles and Dallas, he's not necessarily going to be a long-term option for them.  Does Dorion necessarily need to look for someone that he expects to be a fixture for many years to come though?  If he feels they're still a few years away from contention, could Crawford (or another veteran) serve as a short-term placeholder?  That could potentially pave the way for someone like Troy Mann (AHL Belleville's head coach) to stay where he is for a couple more years and work with more of their younger players before ascending to the NHL.
While this is ongoing, the team is also looking for someone to act as President of Hockey Operations.  However, that search is not expected to affect the coaching situation; Dorion has the green light to make a hire even if the other role isn't filled by then.
Defensive Decisions
With Thomas Chabot taking a huge step forward in his second NHL season and the acquisition of top prospect Erik Brannstrom as part of the deal that saw winger Mark Stone go to Vegas, the Senators have a strong foundation to build from.  However, the supporting cast isn't as strong and will need to be addressed in the near future.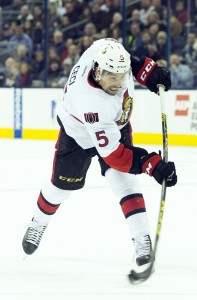 The first key decision that will need to be made revolves around Cody Ceci.  The pending restricted free agent carries a $4.3MM qualifying offer but it appears that the focus is on a long-term contract with the 25-year-old acknowledging that talks on that have already started.  Ceci's value has been a hotly-debated topic as while he plays a big role for Ottawa, he doesn't rank particularly well when it comes to puck possession where he is consistently below average.  Accordingly, some wonder if a long-term deal would be in Ottawa's best interest.  If a deal can't be reached, then they'll have to decide on his short-term future as he'll only be a year away from UFA eligibility with the potential for a near-$5MM price tag in salary arbitration.
After that, there aren't many options under contract that qualify as potential core players.  Youngsters Christian Jaros, Christian Wolanin, Maxime Lajoie, and Andreas Englund have had opportunities with varying degrees of success but are likely best served as role players.  Ottawa also has three other returning players with one year left on their respective contracts in Mark Borowiecki, Dylan DeMelo, and Ben Harpur.  Again, all three aren't top-four options on a contender so Dorion will need to decide if he wants to keep any of them around beyond next season.  If not, he may turn to the trade market to free up a spot or two for some of those younger players.
Spend To The Floor
Rebuilding teams don't typically chase after veterans and take on expensive contracts.  However, the Senators may very well wind up doing that this summer.  They have just over $45MM committed for next season per CapFriendly and aside from Ceci, none of their pending free agents are likely to sign a contract of significance.  Center Colin White had a strong season but his track record likely isn't strong enough for a long-term deal which makes a bridge contract more likely.
In other words, simply re-signing their own players isn't going to get them close to the salary cap floor which is believed to be around the $60MM mark depending on how high the cap ceiling is set.  And this is with veteran wingers Clarke MacArthur and Marian Gaborik remaining on the books in full even though their NHL careers are confirmed to be over and likely over, respectively, allowing insurance to cover a portion of their deals.
With that in mind, expect Ottawa to come up in discussions with teams that are looking to clear up cap space where the Senators can try to leverage another young asset or two in exchange for taking on an unwanted deal.  If that falls through, it wouldn't be surprising to see them discuss players on the back end of a front-loaded contract given their budgetary restrictions.  If not, they could wind up being more active in free agency than it may seem where they'd target short-term contracts.  No matter which way they go, expect some veterans to be heading to Ottawa in the coming months.
Photo courtesy of USA Today Sports Images.