The Ottawa Senators traded away almost all of their important free agents this season, sending Erik Karlsson, Matt Duchene, Ryan Dzingel and Mark Stone out of town before having to deal with an offseason negotiation. Now the focus will turn from UFA to RFA, as several key players need new contracts before the 2019-20 season gets underway.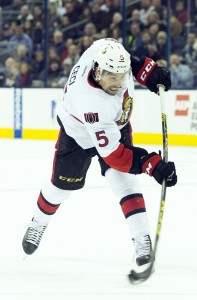 One of those names, Cody Ceci, is something of an enigma as the offseason begins. The 25-year old defenseman was awarded a $4.3MM contract in arbitration last summer, making him one of the most expensive players on the Senators rosters. In fact, Ceci's salary is almost equal to the total of the other five defensemen—Mark Borowiecki, Dylan DeMelo, Thomas Chabot, Christian Jaros and Ben Harpur—that finished the year on the active roster. Another round in arbitration would likely give Ceci another raise, though it's unclear where exactly that number would land.
It appears as though the defenseman wants to avoid that situation entirely, as he told reporters today including Bruce Garrioch of Postmedia that he has discussed a long-term deal with the Senators front office and wants to get something done before long. That could help them keep the cap hit down, and potentially secure a core player before unrestricted free agency hangs over their heads for another year. Though Ceci will only be 26 next summer, he will have already played seven seasons in the NHL and would qualify for UFA status.
The question is, whether Ceci should even be considered a core piece at all. Analytically-minded talent evaluators have pointed out for years that Ceci is deployed much more heavily than he should be, something that didn't change even after Guy Boucher was relieved of his coaching duties partway through the season. In fact, Ceci logged more than 26 minutes in the final game of the season, and finished the year with an average of 22:34 per night. That huge amount of ice time resulted in him tying his career-high of 26 points, but also brought with it a -22 rating and a 44.1% CF%.
Still, there seems to be an appetite for Ceci in Ottawa and belief in him as a top-four defenseman. Perhaps with a better supporting cast and new coaching staff the team can coax the best out of him, especially given the extremely tough matchups that may have colored his statistics for the last few years. If a long-term deal can't be achieved, the arbitration will only be able to award Ceci a one-year deal which would instantly make him a trade candidate on the rebuilding club.
Photo courtesy of USA Today Sports Images