The wait is over Vegas Golden Knights fans. Mark Stone has officially signed his eight-year, $76MM extension. The deal carries a $9.5MM average annual value and includes a full no-movement clause. CapFriendly has the full salary breakdown:
2019-20: $3MM salary + $9MM signing bonus
2020-21: $1MM salary + $7MM signing bonus
2021-22: $7MM salary + $5MM signing bonus
2022-23: $1MM salary + $7MM signing bonus
2023-24: $6MM salary + $5MM signing bonus
2024-25: $6MM salary + $5MM signing bonus
2025-26: $3MM salary + $5MM signing bonus
2026-27: $1MM salary + $5MM signing bonus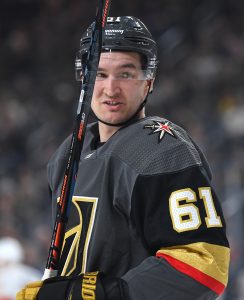 Stone, 26, was acquired by the Golden Knights at the trade deadline from the Ottawa Senators for a package that included prospect Erik Brannstrom, and has had an immediate impact on the ice. Though he has recorded just two points in five games, the Golden Knights are undefeated and have not allowed a goal against with Stone on the ice. That's part of his appeal, given his ability as one of the very best defensive forwards in the entire NHL. Stone has also attempted 34 shots in those five games, with 18 of them hitting the net but failing to go in. Stone had scored on nearly 20% of his shots while with the Senators, meaning it's just a matter of time before he gets his first goal as a Golden Knight.
Even with his incredible two-way appeal, this contract is certainly an expensive one for the Golden Knights. The club is just in their sophomore season in the NHL, but already has more than $82MM in cap space committed to the 2019-20 season. That includes just 17 players, meaning there will have to be changes coming in Vegas even if the cap ceiling increases substantially as it is expected to. Along with Stone's extension, the Golden Knights will see Marc-Andre Fleury, Nate Schmidt, Alex Tuch and Max Pacioretty all receive huge raises next season.
The huge amount of the contract paid out in signing bonuses is an important factor. Not only will Stone receive the equivalent of lockout protection by receiving most of his total in bonuses in both 2020-21 and 2022-23 (possible work stoppage seasons), but paying out his salary in huge chunks is something the Ottawa Senators likely weren't able to offer. The Senators apparently tried tirelessly to work out a contract extension with Stone before trading him, but the team has never been able to agree to this sort of payment structure in the past.
A no-movement clause is also included in the deal, which is something teams are wary to hand out at the moment. With the Seattle expansion draft coming up, NMCs drastically reduce a team's flexibility given that they must be protected. Vegas however doesn't have to worry about that factor, given they will not be participating in the expansion fee or draft process. While several teams likely would have been willing to offer a no-movement clause to a player of Stone's caliber, Vegas can do so without hesitation.
Stone's will now be tied (for the moment) for the 12th-highest cap hit  in the NHL next season, and puts him behind only Patrick Kane ($10.5MM) and Alex Ovechkin ($9.54MM) in terms of wingers. Nikita Kucherov and Jamie Benn also come in at $9.5MM. That puts a lot of pressure on him to continue producing, something that isn't guaranteed even with his outstanding reputation around the league. His 64 points this season actually represents a career high, tying him with his total from 2014-15. While he's obviously going to break that total given the month remaining in the season, the fact that he secured a contract like this without ever producing 65 points or 30 goals in a single season is impressive and speaks to just how valuable the Golden Knights believe him to be in other areas.
It's not just on the ice that Stone has impressed. There was speculation in Ottawa that the winger would likely be the team's next captain if he re-signed, and new teammates have already raved about how Stone stepped into a leadership role in Vegas right away. He'll be asked to bring that and a lot more for the next eight years.
Photo courtesy of USA Today Sports Images