The Metropolitan Division has been tightly contested all season and not surprisingly, there has been plenty of speculation on the trade front.  That was a popular topic among the mailbag questions this week, so much so that the teams in that division get the attention in this edition of the PHR Mailbag.  Questions that were asked but not discussed here will be covered in an extra mailbag column next week.  You can still add your questions here.
grizzled sports vet: Do you see Pittsburgh doing anything else before the deadline? As far as the back end goes, Schultz is returning, but Maatta was placed on the IR. They'll need defensive depth for a playoff stretch run. Even if Maatta comes back it wouldn't hurt to have another D-man to spell or even replace Jack Johnson if needed.
I know Jim Rutherford said he'd like to have a quiet trade deadline but let's face it, he'll find a way to do something.  Justin Schultz coming off of long-term injury reserve cuts down their cap room but they'll still have a couple million of full-season space to work with.  At the very least, I can see them looking to upgrade on Chad Ruhwedel in terms of injury depth on the back end.
I wouldn't be shocked to see him try to do something with winger Tanner Pearson.  His acquisition for pending UFA Carl Hagelin was a risky one given that Pearson has two years left at a pricey $3.75MM AAV after this one.  They were hoping that a change of scenery would help him rebound but it hasn't happened and he is sliding down the depth chart (he's a healthy scratch today).  If there's a team out there that likes him as a middle-six winger, they'd be wise to look to move him.
Will Pittsburgh be as active as they were last year with swinging a unique three-way deal that saw Vegas retain on Derick Brassard with him being on the roster for all of a few minutes?  Probably not.  But Rutherford will be heard from again.
Jaysthoughts: Rutherford has always spun twine into gold. Now what player that doesn't fit in on another team will be traded for Jack Johnson and hoist the Cup at season's end?
With four years at $3.25MM per left after this one, the market for Johnson will be very limited.  The AAV isn't terrible but the term is the big killer here.  (In other words, if he had two years left instead of four, I think there would be a reasonable trade market for him.)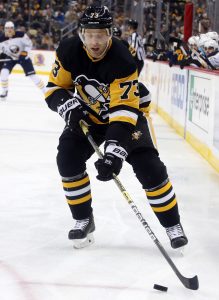 There has been a significant escalation of player salaries at the top end of the market in recent years which has resulted in teams needing to scale back on their spending of mid-tier players.  Johnson can play in the top four when needed but in a perfect world, he's a third pairing defender.   However, there aren't many teams left that are able or willing to commit that much money long-term for a third pairing guy.  Instead, they'll want blueliners making half of that or less to be able to reallocate the savings to a better player.
To be honest, I don't think Rutherford is necessarily looking to get out from under Johnson's deal.  The signing was widely panned (and justifiably so given the five-year term) but I'd suggest he has more or less played as they expected.  He's giving them a little more than 19 minutes a game and while there have been some rocky moments along the way, those weren't to be unexpected given how his time in Columbus ended.  I don't think they were expecting a ton more from him, to be honest, so I don't think he's at the top of the wish list for the Penguins to trade.
Connorsoxfan: Could Hayes and Zuccarello be moved to the same team? Would someone like Boston who could use a 3rd line center (Hayes), a winger for Krejci (Zuccarello), and some immediate help if Pastrnak is out for a while? What would that return look like?
The idea is certainly interesting but I don't think there are many teams who could pull that off with the salary cap implications (the two combine for nearly $10MM in a full-season deal and not a lot of contenders can take that on).  Yes, there's always the potential of getting New York to retain but that will only up the asking price and the cost for a package like this would be steep.  Out of the teams really looking to add, I think Boston and maybe Winnipeg are the only ones that would do this.
Individually, I have both players getting a second rounder plus another piece with the second asset being more significant for Hayes.  If Ottawa takes one or both of their premium rentals off the market, then Hayes may be able to get a first but there are only a handful of those that are going to move.
To get both of them, however, I think the emphasis would shift towards quality over quantity.  A first rounder would need to be in there and instead of a second-round pick, a young roster player would be a target (from Boston, think of Danton Heinen or Matt Grzelcyk and from Winnipeg, someone like Jack Roslovic, players that are a little more established).  Depending on the player going back to New York, there may not be much more than that.
It's a really interesting idea and one I think GM Jeff Gorton would be wise to try to do but a few of the big names would have to be off the board for this to be palatable.
mikedickinson: Hurricanes are making a run at the playoffs, but can't afford to lose Ferland for nothing in the offseason. Do you see him moving on at the deadline?
I think the decision on this is probably still a week away.  If Carolina is still in the thick of the playoff race, then yes, I think they'll hold onto Micheal Ferland and use him as their own rental player.  They have a big stretch coming up with four more games by next weekend and if they struggle, they could be out of it by then as well so GM Don Waddell should play it slow.
As for not being able to afford to lose him for nothing, I agree but only to an extent.  I don't believe the trade market for him is going to be overly significant.  Again, there are only a handful of first-rounders in play and with all due respect to Ferland (who has played quite well this season), he's not at the level of the high-end rentals that are in play.  At best, Carolina is foregoing a second rounder and a decent prospect.  While they could certainly benefit from adding more young assets to the system, keeping Ferland for a meaningful playoff push would be good for this core as well (assuming they don't fall out of the race by next weekend, of course).  If they're in it, I think they'll keep him but if not, they'd be wise to ensure they get something for him.
acarneglia: Are the Blue Jackets a buyer and a seller at the deadline? Could Panarin be moved and then bring in someone like Duchene?
ThePriceWasRight: Do the Jackets wait till the very end to decide on Bob and Artemi? They need to know 100% where they are in the playoff picture as well as what prices are as they likely can't trade Panarin for less than Duchene if he goes.
At this point, I'd almost be inclined to call Plan A being a seller on Artemi Panarin and then flipping those assets (and/or others) for another significant asset (be it Matt Duchene or someone else).  Keeping Panarin long-term looks entirely unrealistic at this point and he's significant enough of a player that they really can't lose him for free.
Barring Columbus going on a big losing streak next week, they're still going to be in the mix so I don't think they necessarily have to wait.  That said, they're going to wind up waiting as Ottawa's top guys are basically holding up the market at this point.  If Duchene and Mark Stone re-sign, that's going to really up the ante on Panarin as the last one standing but if they're made available, then flipping Panarin to acquiring one may be at the top of the to-do list.  Until Duchene and Stone decide what they're doing, the market is at a standstill.
As for Sergei Bobrovsky, if the right deal was there, I think he'd be gone already.  Given the year he's had, I can't see Columbus giving him the contract he's going to be seeking but at the same time, his struggles have hurt his trade value.  I'm leaning towards thinking he'll stay with the trade return not being enough to justify weakening their playoff chances.
nk: The Isles are playing playoff-style hockey right now. Tight checking low scoring games with great goaltending. I know Lou Lamoriello is secretive but the teams' offense since the All-Star break and power play (all season) have not been good. Andrew Ladd is due back but he has not been a consistent scorer when healthy and is often injured. Do you think LL makes the big dangerous move forfeiting possibly a 1st, 2nd, Anthony Beauvillier and someone in Bridgeport for that top scoring sniper (Duchene, Stone, Panarin, Huberdeau) many of which are UFA after the season? Do you see him making a run at Kovalchuk (I don't want a mid-30's player with 2 more years on contract) or do you think he stands pat with lots of cap space making a run at UFA's in the Summer?
billsyanksnisles: What are the Islanders going to do? Any likelihood they get Simmonds or Panarin?
Lamoriello has said in the past that it only makes sense to push in the chips when you think you have a chance to win.  I know Robin Lehner and Thomas Greiss are playing extremely well but I don't think they're one player away from mixing it up with the top contenders.
On the flip side, given where they are, not doing anything would send a pretty bad message to the team so I suspect they'll do something.  The market for secondary scorers is taking its time to develop with Ottawa's guys holding everything up but once that settles, I think we'll actually see a situation where supply will outweigh demand considering the number of GMs of bubble teams who have stated they don't intend to get into the rental market.  That's where I think Lamoriello will look to strike, find a player or two who can be acquired for what will be a really reasonable cost, bolstering his roster without mortgaging the future.
Free agency is going to be really interesting for them.  Will they try to re-sign Lehner?  Will they be able to get deals done with Anders Lee, Brock Nelson, and Jordan Eberle (or whichever secondary rentals they acquire)?  Building via the open market is a risky strategy but that's how they're set at the moment so they may as well play it out now.
sonofspam: Is Wayne Simmonds' potential trade return more valuable to the Flyers than his worth as a 20 game "rental" to themselves for their playoff push?
The short answer here is yes (albeit with a small caveat).  Philadelphia, for as well as they've played lately, is still out of the playoff picture by eight points.  That's a lot to make up, especially with a few teams to jump over.  Even if they keep him, I still don't think they make the playoffs so from that standpoint, it'd be tough to justify not dealing Simmonds.
However, if they can find a way to re-sign him at a deal that works for both sides, then they should go ahead and do it even though it won't affect their short-term fortunes.  Frank Seravalli of TSN reports that no offer has been made so that doesn't appear to be a particularly likely scenario at this point.
Given that an extension is unlikely as is a push for the playoffs, Chuck Fletcher simply needs to find the best deal possible and make it.
Connorsoxfan: Burakovsky? Does WSH need a depth defender?
unfazed: Do you think Andre Burakovsky is definitely gonna get moved? What team do you think will land him? Are the NJ Devils gonna be sellers this year? Their season is lost.
If I was GM Brian MacLellan, I would definitely move Burakovsky as I can't find an argument to justify qualifying him.  Having said that, I don't think I value him as highly as they actually do so there's a bit of bias at play here.
With that out of the way, I wouldn't qualify a deal as definite but I'd go as far as to say it's probable.  I think they need to do something to shake things up and there aren't many players that they'd be willing to move that make enough money to move the needle.  (Swapping fourth liners isn't going to do much.)  Burakovsky has enough of a track record that there will be interest and they'll get some value for him.  It may have to be a two-pronged deal (instead of getting a player back in a one-for-one swap, they get future assets and flip those for the new player) but he should be dealt by the 25th.
As for their defense, they're in better shape this year in terms of depth and have Jonas Siegenthaler in the minors who is capable of playing when injuries strike.  I think they could stand to add a cheap veteran but it isn't as high on the priority list as it has been in the past.
With regards to New Jersey, they should be sellers although they don't have a ton to move.  Marcus Johansson is probably the most notable name in play; I took a look at his particular case last weekend.  Keith Kinkaid probably isn't going to be back after the season so a team looking for goalie help may kick the tires.  Ben Lovejoy has had some postseason success so a contender may look at him as a cheap upgrade.  None of these players will really bring back much in terms of high picks or top prospects but they should be able to add some mid-tier assets to their system.
Photo courtesy of USA Today Sports Images.