With the trade deadline fast approaching, we will be taking a closer look at the situation for each team over the coming weeks.  Where do they stand, what do they need to do, and what assets do they have to fill those needs?  Next up is a look at the Los Angeles Kings.
It's been a rough season for the Kings who had high hopes before the season started. The team had a very successful season a year ago as they had a 45-29-8 season and even though they were the fourth seed, many teams expected them to dominate in the playoffs. Unfortunately, while they played the Vegas Golden Knights well, the team was swept out of the playoffs as Vegas' speed overwhelmed the slower-moving Kings. The team tried to re-stock in the offseason when the signed Ilya Kovalchuk to a three-year, $18.75MM deal to add even more offense.
Then everything fell apart when the season commenced as the team struggled out of the gate and by early November, the team fired head coach John Stevens and replaced him with interim coach Willie Desjardins. The team found itself at the bottom of the standings throughout the league and have already began to fix their team as the team has already moved out forward Tanner Pearson to Pittsburgh and more recently when it sent defenseman Jake Muzzin to Toronto for a first-rounder and a pair of prospects. With the deadline just weeks away and the Kings looking to rebuild their aging franchise, the team may be making a number of moves to upgrade their team.
Record
23-27-5, seventh in the Pacific Division
Deadline Status
Seller
Deadline Cap Space
$7.608MM in a full-season cap hit, 0/3 used salary cap retention slots, 46/50 contracts per CapFriendly
Upcoming Draft Picks
2019: LAK 1st, TOR 1st, LAK 2nd, LAK 3rd, LAK 4th, LAK 5th, ARZ 5th, LAK 6th, LAK 7th
2020: LAK 1st, LAK 2nd, LAK 3rd, LAK 4th, LAK 5th, LAK 6th, LAK 7th
Trade Chips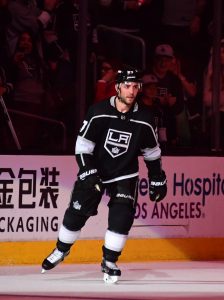 The team has several trade options if they want to totally rebuild the franchise. The Kings already moved Muzzin, but with a group of young defensemen, including Sean Walker, Daniel Brickley and Kale Clague waiting for their chance, Los Angeles could move Alec Martinez for a similar return that they got for Muzzin. Martinez has been a solid top-four defenseman with the Kings for years and will be highly sought after, especially in a market where there are so many buyers.
It might be hard to believe, but the Kings may also be ready to move on from their superstar goaltender Jonathan Quick. However, the 33-year-old has struggled with both injuries and hasn't had his usually impressive season as he has a 2.99 GAA and a disappointing .902 save percentage in 28 games. While starting goaltenders are rarely moved at the deadline as most playoff teams already have a starting goaltender, this is an unusual year as a team like the Columbus Blue Jackets could conceivably move the unhappy Sergei Bobrovsky and could conceivably be looking to add a replacement goaltender. The Kings have Jack Campbell and rookie Calvin Petersen, who could take over and start the rebuilding process in net if L.A. decides to go that route.
Ilya Kovalchuk has also come up as a potential trade chip for the Kings. The 35-year-old winger has struggled with injuries and production slumps, but the veteran winger has 11 goals this year and could score even more on productive playoff team. Whether a team is willing to take on his $6.25MM salary for another two years after this is a whole different question, considering he'll be 37 years old in the final year of his contract. When the team acquired Carl Hagelin in the Pearson deal, the main purpose of the trade was to free themselves of Pearson's two extra years on his contract. Hagelin, however, will be an unrestricted free agent and could easily be flipped at the deadline for a pick or prospect. Unfortunately, Hagelin only has two goals and eight points this season in 33 games, but still could provide a franchise with a quality middle-six rental for a low cost.
Five Players To Watch For: F Carl Hagelin, F Ilya Kovalchuk, D Alec Martinez, G Jonathan Quick, F Nate Thompson
Team Needs
1) Youth: With numerous aging veterans already locked up for the next three to five years with no way to escape from those deals, what Los Angeles needs more than anything are young talent that they can build on. The team already picked up a pair of interesting prospects from Toronto in Carl Grundstrom and Sean Durzi, but the more young talent and picks they can acquire to expedite the team's rebuild the better.
2) Forwards: The team needs more offense. While they have a number of interesting defensive prospects, there are only a handful of scorers that the team has ready to step into their lineup with the possible exception of Gabriel Vilardi, who has been injured all season. There are other prospects, but the Kings need to start focusing on bringing in as much offensive talent to fix the team's lack of speed and offensive woes.
Photo courtesy of USA Today Sports Images.