The mailbag was quite full this week, so much so that we're going to run another one next week with some of the questions that aren't discussed here so if your question wasn't covered here, watch for it next weekend.  Topics this week include the Oilers, deadline plans for the Red Wings, Rangers, Penguins, and the Capitals, plus the recent struggles of William Nylander and the Maple Leafs.
sixfootnineballerina: If you were in charge of the Oilers and your job wasn't in jeopardy, what moves would you make to turn the team into a legitimate contender (either now or in the future)?
For starters, I'd give up on the current season.  Can Edmonton sneak into a playoff spot with some additions?  Sure.  Should they mortgage more of their future in order to accomplish that?  I don't think so which means I'd be going the opposite way Peter Chiarelli appears to be.  That would also mean a coaching change at the end of the year.
Teams are looking for goaltending right now and both Cam Talbot and Mikko Koskinen should have some value.  I'd look to move at least one if not both of them as I'm not sure either is worth committing a long-term deal to.  In the summer, I'd turn to the free agent market.  Sergei Bobrovsky is probably off the table (too expensive) but I think Semyon Varlamov would represent an upgrade over what they've had in recent years.  There's still some volatility in his play but I think he's a bit under the radar and could be a serviceable starter at a reasonable AAV for a few more years.
The signing bonus-laden structure of Milan Lucic's deal makes a buyout extremely unrealistic.  Instead, I offer to retain 50% of his contract and take back the cheapest non-bonus-laden bad contract I can get and buy that deal out instead.  I know Lucic has four years left but at a $3MM AAV with the opportunity to offload a bad contract as well, there should be a taker or two and from Edmonton's perspective, some savings is better than no savings.
In terms of other trades, I'd be open to anything not involving Connor McDavid.  Someone like Ryan Nugent-Hopkins would fetch a sizable return and as things stand, it's not likely they'll be able to afford him when his contract is up so they should cash in now while his value is maximized.  Finding ways to add long-term payroll flexibility would be a priority in any move because the one-two punch of McDavid and Leon Draisaitl (given his deal, I don't think his trade market would be substantial) is pricey no matter how much the cap goes up.
The way free agency has gone lately, the really rich contracts that are bad from the minute they're signed are decreasing.  As teams give their younger players more money earlier and earlier, the UFA class starts to become more appealing as some good players will eventually get squeezed out.  There can be decent value deals to be had there and the opportunity to play with someone like McDavid is a feather in Edmonton's cap.
Long story short, sell what you can to free up some long-term cap room and add some young assets to build around McDavid and Draisaitl.  Add another defenseman or two in the draft.  From there, fill some holes on the open market with players that could view Edmonton as an ideal 'pillow contract' spot – use McDavid as the marketing tool and there will be takers.  It doesn't sound pretty and it's not a quick fix but there isn't one to be made here.
bucs_fan: Am I crazy to think the Penguins should NOT make a trade? Chemistry seems great right now.
heather_vono: What team is the best fit for Brassard? Because it obviously isn't the Pens. What's the potential return?
The idea of keeping the Penguins intact makes some sense.  This is a pretty good group and they've had extended playoff success in the past.  If Jim Rutherford decided to stand pat, I think it would certainly be defensible.
But let's face it.  This is Rutherford we're talking about here and he likes to bring in fresh blood.  Brassard seems highly likely to go as he's not fitting in as their third line center.  The problem here is that most of the contending teams would have him in that role as well and if he can't play that in Pittsburgh, he may not be able to elsewhere.
Still, there should be some interest.  Columbus is known to have inquired and given their situation down the middle, he could be a second liner for them.  If Colorado decides to add a rental, Brassard makes plenty of sense (but if they keep struggling, the odds of them going this route drop).  With Jason Spezza on the wing and Martin Hanzal perpetually injured, there's a top-six spot for Brassard there for now.  If a team thinks he can play a third line role, Boston, Winnipeg, and Anaheim present as decent fits.  San Jose has kicked the tires as well.
As for a return, it's going to be more of a help-now package instead of a futures-based one.  They'll want a center back that can at least somewhat step into Brassard's role.  In a perfect world, they save a bit of cap room along the way as well.  A draft pick or prospect would balance out the trade and I could see that asset being flipped for a rental player to supplement their depth.
ThePriceWasRight: Do you see the recent Toronto slump resulting in an earlier move by Kyle Dubas?
I don't think it really moves the needle too much in either direction.  I know Montreal and Buffalo are still within striking distance of a top-three spot in the Atlantic (the Canadiens are tied for third heading into today's action though everyone in the playoff hunt has games in hand) but I expect Toronto and Boston will be meeting up in the first round as the two and three seeds.  Beyond jockeying for home ice advantage over the Bruins, there isn't a lot to play for over the next ten weeks or so.  A little dip like this during that stretch wouldn't concern me too much if I was Dubas.
With that in mind, I don't think there's a need for the Maple Leafs to make an early trade.  Their need for help on the back end is well-known and the rough patch they had doesn't really change that.  At this point, Dubas just needs to wait for the right move.  If it comes now, make it now but if not, I suspect they'll wait it out as they have the luxury to be patient here.
tigers22: Jimmy Howard to San Jose for two 2's. Nyquist to Boston for a 1 and 3. Jensen to Edmonton for a 2nd. What are the odds Ken Holland can pull this off?
As a package?  I'd say extremely low.  Let's look at each of these individually.
The believed asking price for Howard is a first rounder and while I don't think they'll get that, I can't see a team jumping at a pair of seconds either.  One second rounder plus another lesser asset is probably the ceiling here.  On top of that, I still expect him to sign a contract extension between now and the deadline.  He hasn't exactly hidden his desire to stick around.
As for Gustav Nyquist, it all depends on how many teams are willing to move a number one pick.  If Ottawa can't re-sign them, Matt Duchene and Mark Stone should yield one in return.  Considering he plays a premium position, Kevin Hayes might as well.  If Jeff Skinner doesn't sign an extension, does Buffalo move him?  If so, there's another first rounder gone.  If some of those players re-sign, then perhaps Nyquist becomes part of that top tier of tradeable rentals.  Even at that though, do players with term start to yield firsts instead?  There will probably be one or two of those moves as well.  I like Nyquist but it's hard to see him bringing back a first from anyone.
Nick Jensen's an interesting case.  On the one hand, he's making less than $1MM while averaging over 20 minutes a night.  On the other, he was believed to be available just before the start of the season when it looked like Detroit might have a logjam on the back end.  (Then everyone went and got hurt and that was the end of that idea.)  Does a few good months take his value from negligible to a fairly high draft pick?  I think it's more likely he falls in the third or fourth round range if he doesn't re-sign, a scenario I wouldn't rule out at this point.
ThePriceWasRight: Thoughts on Brian Burke's comments about how Nylander should be dealt this summer?
The idea makes some sense on the surface.  If the Maple Leafs determine that Kasperi Kapanen is a better fit for them long-term, then yeah, moving William Nylander is a good idea as they're not going to be able to keep both wingers, get new deals done for Mitch Marner and Auston Matthews, and keep John Tavares' deal on the books.  Someone will have to go unless there are some team-friendly contracts on the horizon which doesn't appear to be the case.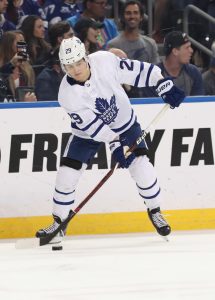 The only concern I'd have in this instance from Toronto's perspective is the potential for selling low on Nylander.  One goal and two assists in 19 games is not the type of production they were expecting when they handed him a six-year, $45MM contract.  Compared to what it was this time two months ago, his trade value has taken a hard hit.  At this very moment, the contract isn't looking too good.
Now, if Nylander turns around after the All-Star break and starts producing at a 60-point pace again, that will certainly change things.  Toronto, then, could safely deal him and get a core player of consequence in return, likely someone younger and cheaper.  If that doesn't happen though, the deal may only be a swap of bad contracts and if that's all they can do, they're probably better off just keeping him and hoping he returns to form, even if that means sacrificing someone like Kapanen (who could fetch a strong return in a trade as well).
acarneglia: What will the Rangers roster look like after the trade deadline?
Not significantly different from its current look.  Kevin Hayes will probably be gone, same with Mats Zuccarello and Adam McQuaid will probably fetch something.  Unless New York retains a big percentage (up to 50%) on the contracts for Hayes and Zuccarello, the odds are decent that they'll have to take a player back to offset some money so that will be one newcomer.  It wouldn't shock me if they made a waiver claim to fill a spot as well and allow some of their players to stay in the minors.
I imagine Lias Andersson will be back up by then with an eye on giving him a bigger role and trying to get him ready for full-time NHL duty next season.  John Gilmour will probably get a look on defense as they will want to see if he's ready to take on a full-time role as well.  (He's also eligible for Group Six free agency as well.)  Last season was the year for the big moves but while there will be a few moves in New York, their post-deadline roster should be pretty close to the one they have now.
pray4rain: What will the Capitals do before the trade deadline?
Earlier this month, GM Brian MacLellan provided an idea of what he's looking to do when he indicated he was looking to do a hockey trade involving a forward and was salary for salary.  That's a roundabout way to say Andre Burakovsky who is a prime candidate to be dealt considering he's trending towards being someone who may not wind up being tendered a qualifying offer in June.  I could see them trying to target someone making a little less than his $3MM AAV to give themselves some financial wiggle room.
With Dmitrij Jaskin not playing a regular role, I could see the Caps trying to move him out for a cheaper depth forward.  Considering they're only thousands of dollars below the cap, even a move like that could be the difference between being able to recall someone down the stretch or not.
MacLellan indicated that he's happy with his back end but if there's a way to bring in someone with some experience that could be stashed at the AHL level and serve as injury depth, I think they could look to do that.  There's no salary cap in the playoffs so when the postseason hits, that player could then be recalled.  All in all, expect a fairly quiet next few weeks from Washington.
Photo courtesy of USA Today Sports Images.