The Western Conference is ripe for a trade deadline arms race given the tight races at both the very top of the standings and playoff bubble, and Eastern Conference teams have a lot to sell. One of those assets for sale is Pittsburgh Penguins forward Derick Brassard, who hasn't been a fit since he arrived and is almost surely to be sent out of town in the next few weeks. It isn't clear where the veteran center will be headed, but Elliotte Friedman did suggest on Sportsnet radio today that the San Jose Sharks have "checked in" on Brassard. Friedman notes that the Sharks will be looking for an addition that can play in the middle of the ice.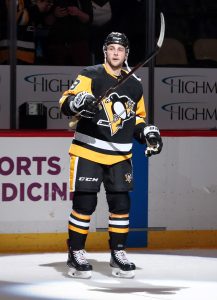 It hasn't been a secret that the Sharks will be active at the deadline once again. Earlier this month GM Doug Wilson indicated that he would be open to pursuing rentals again even after sending so many assets out to acquire Evander Kane and Erik Karlsson over the last year. The Sharks sit in second place in the Pacific Division but should already be considered a Stanley Cup contender, something that they might not be able to say a few years down the road.
If there is any team that could see their core group deteriorate quickly it might be San Jose. The team is currently relying on players like Joe Pavelski (34 years old) and Joe Thornton (39) up front, while already giving out long-term deals to Brent Burns (33) and Marc-Edouard Vlasic (31). While those players may be primed for a Cup run this season, three years from now the Sharks might be a very different animal. That's not to say the team will definitely decline, but the front office has obviously realized that this could be their best chance to win and will do everything they can to compete this season.
Brassard meanwhile cost the Penguins quite a bit last season and won't be given away for free this time around. Even if Pittsburgh GM Jim Rutherford knows he is going to send the pending free agent somewhere, he can easily wait for that arms race to kick up a notch before pulling the trigger. While Brassard hasn't fit well in Pittsburgh, he's still a very talented player that can be relied on for some secondary scoring. In a different fit he could be quite productive, and there will be several interested buyers at the deadline.
It's there where the Sharks may find themselves at a disadvantage. The team does not own a first-round pick for the next two consecutive drafts thanks to the Kane and Karlsson trades, and also rid themselves of good young prospects like Josh Norris and Rudolfs Balcers. There are still a few bullets left in the chamber, but it will be tough to outbid teams like the Vegas Golden Knights and Winnipeg Jets if it comes to that.
Photo courtesy of USA Today Sports Images