It is a pretty exciting day for Buffalo Sabres forward Jeff Skinner, who was just announced as the "Last Man In" to the 2019 All-Star game just hours before taking on his former team. The Carolina Hurricanes traded Skinner away last summer after a new management group took over, and the talented forward has responded by putting up 29 goals through his first 43 games for the Sabres, the best pace of his entire career.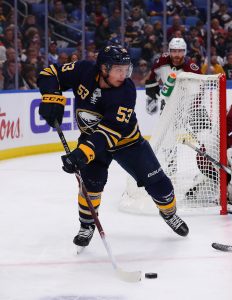 That pace is coming at the perfect time for Skinner, who is an unrestricted free agent at the end of the year. That status likely helped inform the decision to trade him, but the Sabres have always believed they could sign him to an extension at some point. Now, as Skinner is in the news for all the right reasons today, Lance Lysowski of The Buffalo News tweets that the Sabres are expected to start contract negotiations "pretty soon" with their All-Star forward.
One of the very first things that Buffalo GM Jason Botterill did after taking over the franchise in 2017 was hand out an eight-year, $80MM extension to Jack Eichel and he very well may come close to that with his next big long-term deal. Skinner has the advantage of being a pending unrestricted free agent and has plenty of leverage over the Sabres, so when salary numbers around $8.5-9MM were floated earlier this season it was easy to understand. While it may not get quite that high, investing heavily into a 26-year old forward who has found great chemistry with the face of your franchise and very well could score 50 goals in his first season in town makes a lot of sense.
It's important to note that Skinner cannot technically sign an eight-year extension until after this season's trade deadline passes, though he can obviously agree to one in principle beforehand. One would have to believe that is where negotiations are headed, given it is basically the only piece of leverage the Sabres have. If Skinner hits the open market in July, he would only be able to sign a seven-year deal.
Photo courtesy of USA Today Sports Images