As the holiday season approaches, PHR will take a look at what teams are thankful for as the season heads past the one-quarter mark. There also might be a few things your team would like down the road. Let's take a look at what's gone well in the early going and what could improve as the season rolls on for the Los Angeles Kings.  Click here for the other articles in this series. 
What are the Kings most thankful for?
With a victory Saturday over division-rival Vegas and having split four of their last eight games, Los Angeles has pushed its way out of 31st place in the NHL. While that's not necessarily something to be thankful for, the veteran-laden Kings started so badly that they were last in the NHL by far. However, the team has shown slight improvements since the team fired John Stevens and replaced him with Willie Desjardins on Nov. 4, who has a 7-10 record so far with the team. While that's nothing great, the team has picked up a few key wins such as on Saturday and can only hope that things will be getting better on a daily basis.
Who are the Kings most thankful for?
With all the goaltending injuries that the team has sustained this season as both Jonathan Quick and backup Jack Campbell have missed large chunks of the season already, the team's goaltending hasn't been that bad. The team has been right in the middle, ranked 15th in save percentage with a .903, which is impressive considering their issues. In fact, the always reliable Quick has been the weakest link for the team in goal this year as he has a 3.23 GAA and a .893 save percentage in nine appearances, although it's likely he's not playing at 100 percent.
The team should be impressed, however, with their success from their other goalies as Campbell fared quite well filling in for Quick initially before he went down with the same lower-body injury that Quick suffered. Campbell has posted a 2.33 GAA and a .923 save percentage in 13 games, while AHL prospect Calvin Petersen has fared equally as well with a 2.41 GAA and a .929 save percentage in nine games.
What would the Kings be even more thankful for?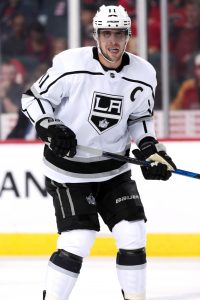 Goal scoring. Team star Anze Kopitar, who is coming off a 35-goal, 92-point season last year, remains the team's top scorer, but has just seven goals and 18 points — hardly numbers of a player who should be somewhere among the league leaders in scoring. In fact, the team's lack of scoring can't be placed on just one person as the entire team's offense has been lethargic all season as other players including Jeff Carter, Dustin Brown and their big offseason acquisition Ilya Kovalchuk have all struggled this year. If Kopitar and some of the other veterans can pick up the pace a bit and start to show their value, the team could find the offense they need to move them from out of the bottom of the Pacific Division.
What should be on the Kings' Holiday Wish List?
The team has brought in multiple youngsters to attempt to bring life to the team and while some of those players have had limited success such as Matt Luff, the Kings really need to shake up their roster and begin to reshape their franchise. While there have been plenty of rumors around about L.A. moving on from players like Jeff Carter or Tyler Toffoli, the team remains laden with multiple long-term deals that they are stuck with. If they can find any way to move one or two of them, they have to hope someone finds enough value in some of those veterans that they would be willing to take them off their hands.
Photo courtesy of USA Today Sports Images.