Though he isn't expected back on the ice for several months, Shea Weber has been named the next captain of the Montreal Canadiens. The team had a vacancy in the role since trading Max Pacioretty earlier this offseason, and Weber seemed the easy choice. The team has also named Paul Byron and Brendan Gallagher as alternates for the upcoming season. Interestingly, the accompanying press release notes that the decision was made by team management.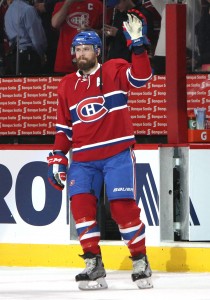 Weber, 33, came to the Canadiens by way of trade in 2016, leaving the Nashville Predators behind in a swap for P.K. Subban. Weber had been serving as the Predators captain, and quickly took on a leadership role with his new club in Montreal. Unfortunately, after playing in 78 games during his first season with the Canadiens Weber was limited to just 26 contests in 2017-18 and is expected to be out until December this time around. Those injury woes are concerning for Montreal, as their new captain heads into the latter stage of his career with some chronic issues and uncertainty surrounding his level of play upon returning.
Still, there little doubt that Weber would be named the 30th captain in franchise history. Among the most well respected players in the NHL, the big defenseman has been known for his excellent two-way play for more than a decade and has been a Norris Trophy finalist several times. In fact, before his injury-shortened 2017-18 campaign Weber had finished in the top ten in Norris voting for nine consecutive seasons, though he has never actually won the award.
Other than the Norris and the still-elusive Stanley Cup though, Weber has had tremendous success throughout his hockey career. A two-time Olympic gold medalist with Team Canada, Weber has also won a WHL Championship, Memorial Cup, World Cup, World Championship, and World Junior Championship. If he ever were to raise the Stanley Cup, he'd enter a very exclusive club with titles at nearly every level of play both domestic and internationally.
Still, that's a tough ask for Weber and the Canadiens given the current state of the organization. After Pacioretty's departure and some offseason injuries, there are very low expectations for Montreal as the season begins and an extremely tough Atlantic Division ready to pounce on any weakness. With teams like the Tampa Bay Lightning, Boston Bruins and Toronto Maple Leafs all considered legitimate Cup contenders, it would be a surprise to see the Canadiens push for the playoffs this season. With that said, a healthy Carey Price from the beginning of the season, impressive young players like Jesperi Kotkaniemi making their debuts, and a potential mid-season return from their new captain could lead to some surprising results for the franchise. Weber will be tasked with keeping this group's focus over the coming months, until he can get onto the ice with them on a daily basis and lead by example during games.
Photo courtesy of USA Today Sports Images