This edition of the PHR Mailbag discusses some teams that are struggling early on, the free agent situation in Columbus, the surprising Rangers, a top Vegas prospect, the Stars, and a certain unsigned Toronto winger.
ThePriceWasRight: Should Florida Panthers fans be worried?
Yes and no.  On the one hand, I'm concerned about their goaltending.  Florida paid James Reimer a significant amount of money to provide them with a starting-caliber insurance policy for whenever Roberto Luongo gets injured.  He simply has not provided them with that level of play this season and that is a big reason for their early struggles.  Luongo is still a couple of weeks away and if Reimer doesn't turn it around, they're going to have a bit of a hill to climb to get into the playoffs.
On the other hand, the Panthers have quietly put together one of the more underrated attacks in the league.   They should be able to stay near the three-goal per game mark once again so once Luongo returns (or Reimer improves), they'll be back in the win column pretty quickly.  Even with Buffalo, Montreal, and even Ottawa off to better than expected starts, I still expect Florida to leapfrog those teams which would at the very least have them soundly in the mix for a Wild Card spot.
@bdaly77: Will the Flyers ever be good?
I thought Philadelphia was good (albeit streaky) last year and with James van Riemsdyk on the shelf, this is basically the same team.  Not surprisingly, they've been up and down thus far.  The Flyers are in a slow build in that they're expecting a lot of their core youngsters to generate the year-to-year improvement and the gains have been incremental thus far.  If they stick with that mindset, they're probably a couple of years from getting to that next tier.
If you're thinking that a couple of years from now seems a lot like the timeline for Carter Hart to really make an impact, that's my thought as well.  Give this team good, consistent goaltending and a lot of the ebbs and flows of the last few years should also go away which should help them take off in the standings.  In the interim, van Riemsdyk's eventual return should allow them to outscore some of their troubles; they're not going to allow four goals per game all season long.
met man: How many more years are left on Marc Staal's contract? I hope it's over after 2018/19.
Staal has three seasons left on his current deal (including this one) with a $5.7MM cap hit and a full no-move clause (which could come into play if Seattle's expansion team debuts in 2020-21).  The 'good' news here is that his contract isn't really preventing New York from doing anything at the moment.  They have a reasonable chunk of salary cap space (with the ability to move several waiver-exempt players back and forth to and from the minors to make more room if needed) and new bench boss David Quinn has already benched one expensive underachiever so if he decides that Staal shouldn't be in the lineup, he probably won't hesitate to sit him down.  Barring a swap of bad contracts at some point this season, they'll have to decide in the summer if they're betting off buying out the remaining two years of his contract.
Paul Heyman: Could Mike Yeo be on his way out if the Blues don't perform well in the next few weeks or in the next few months, also when is the defense going to help out Jake Allen and Chad Johnson?
Generally speaking, I'm a proponent of showing patience when it comes to coaches.  There has been a fair bit of turnover so it's not all that shocking that there are some early-season struggles.  That said, there certainly seems to be a lot of speculation lately that something could be up between the bench and they have a former NHL bench boss in Craig Berube if they need to make a change.  I'd still give the team more time to jell but I wouldn't be shocked if a change was made in the next few weeks if they can't get back on track.
As for their defense, I don't think it's a particularly bad unit, especially to the point where they're allowing four goals per game.  (Like Philadelphia, I don't expect that to continue much longer.)  They're working with a new defensive coach in Mike van Ryn so that may account for some of the issues as they change things up a little bit.  Beyond that, I think they'll get themselves sorted out eventually.
ThePriceWasRight: Columbus can't really risk losing both Bob and Panarin for nothing right? Both have to be moved if they think they aren't re-signing.
A lot is going to depend on where they are in the postseason picture closer to the trade deadline.  If they're in contention, it's a tough sell to the fans (and the team) to sell off two of their best players, even if it's the more practical move long-term.  If they're at or below a Wild Card spot though, I could see the Blue Jackets making the push to deal both even if it results in them falling out of contention.  Basically, short-term pain for long-term gain is a lot easier to sell if you're not at or near the top of the division.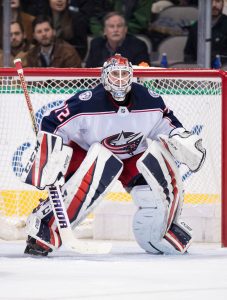 A complicating factor here is that the typical market for a rental starting goalie is going to be small.  While most teams would love to add an impact player like Artemi Panarin (and would pay a hefty price to do so), only a handful at most will be looking for an upgrade between the pipes.  If that is indeed the case (injuries could certainly change things between now and the trade deadline in February), then GM Jarmo Kekalainen could opt to hold onto Sergei Bobrovsky over taking a middling return for him in the hopes that he can be convinced to stick around (at a price tag that doesn't set a new benchmark for goaltenders).
@Joewalton9090: Is Dallas looking for scoring depth?
It's too early in the year for notable depth players to be moved – ones that could make an impact between now and the end of the season.  Accordingly, at this particular moment, they're probably not on the hunt for scoring depth.  Assuming the injury bug doesn't bite them too much more than it already has though, the Stars should have enough salary cap room to add one notable player for the stretch run if they're still in the hunt at that time.
The question then becomes where should they try to improve?  Another impact scoring winger would give them a second line that could really pack a scoring punch.  However, defense has been an issue for a while in Dallas so on the surface, it may make more sense to try to get a top-four blueliner and in the process, move a few players down into roles they're more suited for.  If I was GM Jim Nill, I'd lean towards getting help on the back end – the Stars have enough firepower that a lack of scoring isn't likely to be a problem.
vegasloveforthebills: With Schmidt, McNabb, Miller and Theodore all signed long-term, and Brannstrom close to ready, do you see Vegas dealing a Hague for some offense this year?
It certainly makes it more of a possibility but I don't think they will, nor do I think they should.  Vegas has $72.2MM tied up in 14 players for next year (and none of those players are named William Karlsson, whose qualifying offer of $5.25MM will ultimately offset any potential LTIR savings on David Clarkson).  They're going to need cheap players to fill out the rest of their roster.  Those cheap players can be depth pieces in free agency or someone like Nicolas Hague.  I suspect the Golden Knights will want to use his cheap entry-level deal (and Erik Brannstrom's as well) to offset the long-term deals they've just handed out and keep that back end cost-controlled.  It's a defense-by-committee situation and integrating those two youngsters in there will allow them to keep it that way for a while.
They still have a limited number of prospects given that this is only their second year in the league and they've already dealt two of their better ones in Nick Suzuki plus the first rounder in the Tomas Tatar deal.  I don't think they can afford to deal another one of their top young assets in Hague for what would ultimately have to be a rental player given their cap constraints beyond this season.
acarneglia: Are the Rangers going to be back to bring a contender quicker than many people think? Look at the number of close games they've played. Ignore goals scored with an empty net.
Heading into the season, I think most would have said that the Rangers were two or three years away from serious contention.  I don't think that's changed.  They've been in some close games so far but we're also at the point of the year where weaker teams in general are faring better than expected and New York is in that bunch.  This is the time of the year where out-hustling their opponents makes a real difference as veteran contenders are easing into things so the Rangers looking pretty good in the early going shouldn't impact their long-term prospects.
They have some nice pieces up front and if they can get Igor Shestyorkin to come over, they'll have their goalie of the future in place as well.  They still have some pieces to sell off to supplement and add to that young core though so it's probably fair to still expect that they'll be a couple of years away from working their way back into the mix.
ThePriceWasRight: Why do most think Nylander is traded now or they sign him to a bridge and in 3 years maybe trade him? Doesn't it make sense for Dubas to stick to his guns, get a cheap bridge (say 3/15) and then after the season visit a trade with a player with short cheap term and the Leafs know exactly where they are with Gardiner and other D-man?
The idea of dealing him at the end of the bridge deal likely comes from the realization that it will be awfully difficult to keep all of John Tavares, Mitch Marner, Auston Matthews, and William Nylander around on long-term contracts.  The bridge would give Toronto two or three years with an elite attack and they'd try to win the Stanley Cup within that window.
I don't think Jake Gardiner's situation really affects Nylander here.  Part of that is because I can't see Toronto paying the type of money (likely north of $6MM) to keep Gardiner around beyond this season, especially knowing that it would probably force them to trade Nylander.  With the way pending UFAs are getting signed, he is quickly becoming one of the top players set to be available so the demand and asking price are going to be high.  If the thought process is that Nylander could be dealt for Gardiner's replacement, they could do that at any time they want.
JDGoat: What happens to RFA's contract situations if they get past the Dec 1st deadline? For Nylander for example, is he in the exact same situation next year or is he a year closer to FA?
Basically, the player is in the same situation he was before.  In Nylander's case, he doesn't get credit for an accrued season so he doesn't get the extra year required for salary arbitration eligibility.  Had he accrued a season in his teenage years, it also would have delayed his UFA eligibility by one season.  (He played in 22 in 2015-16, burning an ELC year but he didn't reach the 40-game threshold to qualify as a year towards UFA status.)
To become an unrestricted free agent, a player must either be 27 or have seven seasons of service time.  Since his first season for free agent purposes was his age-20 campaign (2015-16 didn't count), Nylander will be eligible for unrestricted free agency in 2023.  That won't be affected by this season either way.
Photo courtesy of USA Today Sports Images.