Navigating the Salary Cap is probably one of the more important tasks for any general manager to have. Teams that can avert total cap chaos by walking the tightrope of inking players to deals that match their value (or compensate for future value without breaking the bank) remain successful. Those that don't see struggles and front office changes.
PHR will look at every NHL team and give a thorough look at their cap situation heading into the 2018-19 season. This will focus more on those players who are integral parts of the roster versus those who may find themselves shuttling between the AHL and NHL. All cap figures are courtesy of CapFriendly.
Current Cap Hit: $78,400,961 (under the $79.5MM Upper Limit)
Entry-Level Contracts
F Jakub Vrana (One year remaining, $863K)
With the team trying to make a Stanley Cup run over the past few years and finally capturing one, youth is in rare supply in Washington as the team has made it clear that it prefers to play its veterans rather than risk mistakes from youngsters. The only player who is still on an entry-level deal is Vrana, who has had a turbulent career so far with the Capitals. After spending a couple of years in the AHL, he finally got a full season with Washington this year, but the former first-round pick was never able to secure a full-time role in the team's top six as he bounced around on different lines all season. He finished the year with 13 goals and 27 points, but put up another three goals and eight points in the playoffs. He has a chance to take on a full-time role on the team's second line this season and hopes for a breakout season.
Potential Bonuses
Vrana: $600K
Total: $600K
One Year Remaining, Non Entry-Level
F Andre Burakovsky ($3MM, RFA)
F Brett Connolly ($1.5MM, UFA)
D Brooks Orpik ($1MM, UFA)
F Devante Smith-Pelly ($1MM, UFA)
D Christian Djoos ($650K, RFA)
F Nic Dowd ($650K, UFA)
F Chandler Stephenson ($650K, RFA)
F Nathan Walker ($650K, RFA)
G Pheonix Copley ($650K, UFA)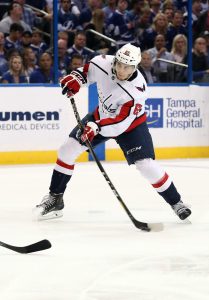 The Capitals have only a few significant free agents for next season as many of their deals are league-minimum contracts, which is necessary considering the amount of money the team has expended in keeping their roster together. Perhaps the biggest name on their free agent list will be Burakovsky, who many thought might have a breakout season with a bigger role last year. However, Burakovsky's numbers decreased as his season was plagued with injuries. His 12 goals and 25 points in 56 games was the worst since his rookie season. However, he did post six points in 13 playoff games. If he can stay healthy, the 23-year-old could provide the team with more offense.
Due to the Stanley Cup win, the team was able to find a way to bring back several key role players on cheaper deals. The team assumed they would lose Smith-Pelly to free agency, but the 26-year-old opted to return for another playoff run, while long-time Capital Orpik was traded away, waived and opted to return for another year.
Two Years Remaining
F Nicklas Backstrom ($6.7MM, UFA)
G Braden Holtby ($6.1MM, UFA)
D Madison Bowey ($1MM, RFA)
F Travis Boyd ($800K, RFA)
The team does have to worry about Backstrom in two years. The team's No. 2 center is still posting excellent numbers as he tallied 21 goals and 70 points last season, the fifth straight season he's reached at least 70 points. However, the team will have a tough decision to eventually make as the veteran will be 32 when he gets awarded a new contract, which can get into a dangerous area when players hit their early 30's.
Holtby will be another interesting case. After temporarily losing his starting job to Philipp Grubauer for a few weeks near the end of the season due to poor play (2.99 GAA, .907 save percentage), Holtby snapped out of it and posted dominant numbers throughout the playoffs (2.16 GAA, .922 save percentage) showing he still has what it takes to be a top-of-the-line goaltender. While the 28-year-old should still be in his prime in two years, the team also has top goaltending prospect Ilya Samsonov arriving in North America this season. He'll likely start the season in the AHL, but he will likely be ready to take the reigns once Holtby's deal expires.
Three Or More Years
F Alex Ovechkin ($9.54MM through 2020-21)
D John Carlson ($8MM through 2025-26)
F Evgeny Kuznetsov ($7.8MM through 2024-25)
F T.J. Oshie ($5.75MM through 2024-25)
D Matt Niskanen ($5.75MM through 2020-21)
F Tom Wilson ($5.17MM through 2023-24)
D Dmitry Orlov ($5.1MM through 2022-23)
F Lars Eller ($3.5MM through 2022-23)
D Michal Kempny ($2.5MM through 2021-22)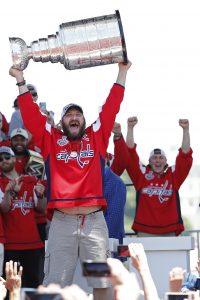 The team decided more than a year ago that they were going for it, which worked out perfectly last season. The team has done a fantastic job locking up its core, although many of the pricetags are quite generous, which could come to hurt them. However, now that the team has won the Stanley Cup, the team is going all out to win another as the team has locked up all of their critical free agents this year, signing Carlson as a long-term answer as their top defender as well as locking in Wilson. That gives them a solid core for the next many years. That should give them two or three years to attempt to capture another title. However, eventually this team will be weighed down by these contracts, much like the Chicago Blackhawks, but Washington is focused on the future.
The team may be forced into handing out another long-term extension to Ovechkin in three years, depending on how the 32-year-old fares in three years, but the deal would unlikely be more than he is already being paid.
Buyouts
None
Still To Sign
None
Best Value: Holtby
Worst Value: Wilson
Looking Ahead
The Capitals are quite used to dealing with little to no cap space and will have to do that again for a number of years to come. However, the team has managed to keep not just the core of their team together, but have also managed to bring back multiple role players at bargain prices to keep this team at a Stanley Cup level. With new deals to players like Carlson and Wilson, should challenge for a few more years, but age and those long-term deals will eventually hold the franchise after that. However, the team has already proven that their tactics are worth it after winning it all last season.
Photos courtesy of USA Today Sports Images.