With neither side really wanting to go through the arbitration process today in Toronto, Mark Stone and the Ottawa Senators have settled on a one-year contract. The deal will pay Stone $7.35MM this season, and carry him through to unrestricted free agency in the summer of 2019. The two sides cannot sign an extension until January. Our Brian La Rose projected this exact contract yesterday when he broke down the Stone arbitration case.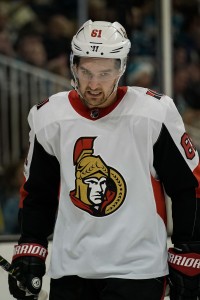 The 26-year old played just 58 games for the Senators last season, but was easily the team's best forward registering 20 goals and 62 points. That point-per-game pace pushed Stone from a very good player to one of the league's best, especially when combined with his trademark takeaway ability and solid defensive presence. Even with the limited number of games, he still earned Selke votes for the fourth consecutive year and led all Senators in takeaways.
For all the positive things Stone brings, a one-year contract will lead to immediate speculation about his future in Ottawa. The team is heading for a rebuild, and now all three of their best players are scheduled to become unrestricted free agents next summer. Stone, Erik Karlsson and Matt Duchene all have just one year remaining on their deals, making them prime trade candidates over the next few months. Even if things go better than expected during the first half of the 2018-19 season, the team still has to consider moving these big assets for whatever they can get, depending on whether they're willing to sign a long-term extension. Though it's unclear if Stone would even re-enter negotiations, the fact that the two sides couldn't come to an agreement this summer only puts creates more pressure down the road.
The Senators will have a two-month window to sign Stone at the beginning of 2019 before facing the trade deadline. If he remains unsigned, you can bet there will be dozens of teams clamoring to get a piece of him as a playoff rental with a chance to re-sign him to a long-term deal. Evander Kane, Paul Stastny and others set the market this season, but Stone is a more effective offensive piece than either of them and could bring back a bigger package should his contributions on the ice continue this season. As one of only a few top-end options in Ottawa, it wouldn't be surprising to see him receive more than 20 minutes a night once again.
Those first line minutes shouldn't come as a surprise now that Stone carries such a huge salary. His new contract makes him the 24th-highest paid forward in the league for 2018-19, putting pressure on him to perform as the best player up front for Ottawa. It also means that a long-term extension would be incredibly pricey, something that the Senators may just not have the money for. Remember this was a restricted free agent year still, which usually comes in at a lower price than the player would be demanding on the UFA market. If Stone wanted an even bigger cap hit for seven or eight years, Ottawa might have to back out of negotiations purely from a financial standpoint.
Photo courtesy of USA Today Sports Images