While the Senators have already gone through one arbitration hearing this week with defenseman Cody Ceci, they're on the verge of needing to do so with winger Mark Stone as well as his hearing is set for Friday morning.  The pre-hearing filings were exchanged on Wednesday with Ottawa offering $5MM and Stone asking for $9MM.  This has the potential to be a record-setting award so let's take a closer look at this case.
The Numbers
Over the past four seasons, the 26-year-old has been pretty consistent offensively.  He has scored at least 20 times in each of those years and has had between 54-64 points in those seasons as well.  That type of production lines up with a high-end second liner or quality top liner.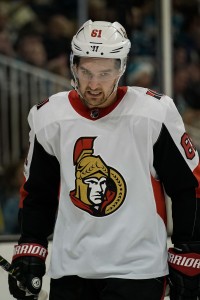 However, 2017-18's numbers have to be looked at a little closer.  Stone posted 62 points (20-42-62) last year but did so in only 58 games.  In other words, he played at an 88-point pace which ranked 14th league-wide among qualifying players.  That would put him in the high-end front liner range which likely has played a big role in his asking price.
The Senators haven't hesitated to use Stone in all situations.  He led the team in ice time by a forward by a sizable margin (while ranking 11th league-wide) and averaged more than three minutes per night on the power play with a couple of shorthanded shifts as well.
With that in mind, it's going to be difficult for Ottawa to argue that Stone deserves to be paid like a second-line player when their own usage of him is considerably different not to mention his big jump in points per game last season.
Potential Comparables
Comparable contracts are restricted to those signed within restricted free agency. For this exercise, I've taken it a step further and restricted this list to deals inked with arbitration eligibility which takes post-ELC deals like Nathan MacKinnon, Mark Scheifele, and Vladimir Tarasenko off the table.
Jonathan Huberdeau (Florida) – Huberdeau signed his current deal that carries a $5.9MM cap hit (4.45 cap hit percentage) after a 59-point season and was viewed as the time as someone that could be a top line player but would be even better on the second line.  That seems to be what Ottawa is going for here so it wouldn't be surprising if they're citing this deal as a comparable although it seems fair to say that this comparable is going to be on the low end.
Ryan Johansen (Nashville) – Johansen inked an eight-year, $64MM deal (10.67 cap hit percentage) coming off a three-year bridge contract which is the same situation as Stone is currently in.  At that time, he had four seasons of 60 or more points under his belt so Ottawa could try to argue that Johansen's track record offensively is better.  However, Johansen hasn't gotten particularly close to the point-per-game mark that Stone passed last season either.
Ryan O'Reilly (St. Louis) – While Stone isn't elite at the faceoff dot like O'Reilly ($7.5MM AAV, 10.5 cap hit percentage) is, the similarities are fairly strong otherwise.  At the time the deal was signed, O'Reilly was coming off seasons of 64 and 55 points and his production since then has ranged between 55-61 points which is right in Stone's range as well.  On top of that, they're both well-regarded as two-way forwards.
Blake Wheeler (Winnipeg) – While Wheeler's contract ($5.6MM AAV, 8.71 cap hit percentage) is now viewed as a bargain, the fact he's significantly outperformed the contract since he signed it back in 2013 doesn't really matter much.  At the time of the deal, Wheeler only had one 60-point year under his belt (although he played at that pace in the lockout-shortened year as well).  His cap hit is close to Ottawa's submission but once you factor in the increase in the salary cap since then, the value in today's dollars is just shy of $7MM.
Projection
The awards thus far have been right down the middle of the filings and there's a decent chance that will be the case here as well.  It may be a bit tough for Stone to get the 10% or higher that Johansen and O'Reilly got as he doesn't play the premium position they do either.  It will also be difficult for the arbitrator to really assess the season Stone just had – is that a sign of things to come or the statistical outlier?  Given that he has been closer to a 0.8 point-per-game average for the better part of his career, I think the arbitrator may skew a little more conservatively here.
Could this award (if it gets that far) set the record for the biggest one ever, surpassing Shea Weber's $7.5MM?  It could, but I don't think it will.  The cap percentage for that deal was 11.66 which is higher than what Stone's probably going to get.
That said, Stone has a shot at setting a new award record for a forward ($7MM for John LeClair in 2000).  It wouldn't be surprising to see the award come in between the filings midpoint of $7MM and Weber's record award.  I think if Stone had put up a second season of close to point-per-game production, an award closer to $8MM would have been a legitimate possibility.  Instead, a one-year, $7.35MM contract (9.25 cap hit percentage) feels like a reasonable projection, one that lines him up for unrestricted free agency next summer and a whole lot of trade speculation between now and then.
Photo courtesy of USA Today Sports Images.