The free agent market is almost tapped, with Patrick Maroon and his on-again-off-again deal with the St. Louis Blues the last of the real impact players available. That is other than Rick Nash, who still hasn't announced a decision one way or another on whether he'll play next season. But beyond the big names there are still a few options for teams who want to add reliable NHL defensemen, and at this point in the summer they should come at a relatively inexpensive price.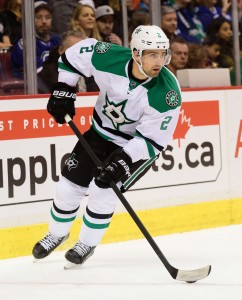 Dan Hamhuis is the belle of the ball among those names, and would still represent an upgrade for many teams around the league. Though the Dallas Stars' defensive work in 2017-18 isn't something to hold up an example of championship caliber play, Hamhuis is still an effective option at age 35. Logging more than 20 minutes a night last season, Hamhuis and teammate Greg Pateryn were tasked with shutting down the opponent's best players, while also seeing huge penalty kill time each and every night. The veteran defenseman excelled in the role, and even posted 24 points on the season—almost all of which came at even strength.
If there's something to be said about experience, Hamhuis would deliver on that front as well. With over 1,000 games in the NHL, he's quietly been one of the most consistent two-way defensemen in the league for the past decade and a half. He moves the puck quickly and effectively, can be hard-matched against superstars, and could likely be had on a short-term deal at this point. If Hamhuis still wants to play—which he apparently does, according to his Sportsnet radio appearance recently—several teams around the league should be in touch.
It doesn't just stop with Hamhuis though, as there are several other defensemen who could still add some value around the league. Luca Sbisa dealt with injury for much of last season and was pushed down the depth chart in Vegas, but can still skate and is still young enough—he'll still be 28 at the start of the season—to have a bounce-back campaign. Toby Enstrom has had a career similar to Hamhuis in that he's been a consistent two-way defenseman, but is coming off his worst season in the NHL and has injury concerns. He's 33 now but still wants to play, and could be a good pickup for a bottom pairing somewhere.
One of the more interesting names is Alexei Emelin, who hits free agency after disappearing from the spotlight by playing down in the lineup in Nashville. The 32-year old was once a highly touted defensive option who was feared for his open ice hitting, but filled a depth role for the Predators as they waited for Ryan Ellis' return midseason. Emelin ended up playing in 76 games for Nashville, but saw his usage decline sharply in the playoffs. Still, there's obvious upside for any team looking at Emelin in a bottom pairing role, as he's shown the ability to log big minutes at times without hurting his team. No one is going out of their way to sign him to an expensive multi-year deal, but if he decides to forego returning to Russia for a short-term NHL contract there should still be plenty of interest.
Photo courtesy of USA Today Sports Images