Free agency is now a little less than a month away from opening up and there are quite a few prominent players set to hit the open market while many teams have key restricted free agents to re-sign.  Here is a breakdown of Carolina's free agent situation.
Key Restricted Free Agents: F Elias Lindholm – The Hurricanes weren't able to find much success in terms of wins and losses in 2017-18, and much of that had to do with some inconsistency from nearly every position. One of the only players that has been able to find some of that consistency through his first few years in the league is Lindholm, who went about another 40-point season with solid contributions in the faceoff circle and the penalty kill. If the team were to acquire a real first-line center Lindholm would likely be pushed down in the lineup, but he's proven that he can be an impact player that doesn't hurt you at either end of the ice.
He's coming off a two-year $5.4MM contract that he signed in 2015, and should get a healthy raise after recording 89 points in 153 games. Where that number lands isn't exactly clear, but one could look at teammate Victor Rask's six-year $24MM deal as a point of comparison. Rask was also 23 at the time of that contract, though he didn't have nearly as much NHL experience as Lindholm heads into this summer with.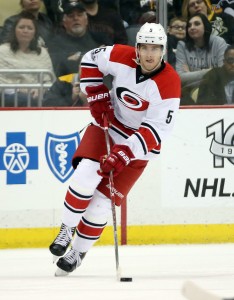 D Noah Hanifin – The bigger question mark among Carolina restricted free agents is Hanifin, who could either be locked up long-term or shipped out of town. The rumor mill has swirled around the 21-year old defenseman for the past year, mostly because of the Hurricanes' depth on defense. Hanifin would generate a ton of interest around the league and bring in a big package for the Hurricanes, but could be more useful stepping into a bigger role on the team next year and beyond. While it's clear that Carolina will move at least one of their defenders, that could Justin Faulk with Hanifin instead being signed to a long-term deal.
No one can really get a read on owner Tom Dundon and GM Don Waddell, but there are clearly changes coming in Carolina. Hanifin will be an interesting measuring stick to see just how far the new executive group wants to go in shaking up the core of the team.
Other RFAs: F Phillip Di Giuseppe, F Joakim Nordstrom, D Trevor van Riemsdyk, F Andrew Poturalski, F Sergey Tolchinsky, F Greg McKegg, D Tyler Ganly, D Keegan Kanzig, F Lucas Wallmark, F Valentin Zykov
Key Unrestricted Free Agent: F Derek Ryan – Though Carolina needs some center help, it looks as though Ryan is destined for free agency as the team prepares to promote Martin Necas to the big club next season. Ryan, 31, has been a sneakily-good player since making his NHL debut at the age of 29 two years ago. With 38 points in 80 games this season and solid faceoff and possession statistics, there will be interest from around the league in the professional journeyman.
Heading to a new team is nothing new for Ryan, but he'll likely be looking for a multi-year deal that can keep him in one place for a few seasons. After re-signing with the Hurricanes for just under $1.43MM last summer, there could be a hefty raise in order this time around. Ryan heads to free agency in a relatively weak center market, as after John Tavares and perhaps Joe Thornton, options get thin very quickly.
Other UFAs: F Lee Stempniak, G Cam Ward, D Dennis Robertson, D Jake Chelios, G Jeremy Smith, D Philip Samuelsson, D Brenden Kichton
Projected Cap Space: The Hurricanes have never been an upper-limit team, and head into this summer with more than $30MM in cap space depending on where the ceiling lands. While that should afford them the opportunity to be big players in free agency, it really comes down to how much Dundon is willing to spend in his first offseason. The team has previously worked under an internal budget that has limited big free agent splashes, but with a new owner in the mix the Hurricanes are something of a wildcard.
Their restricted free agents should take up a big chunk of that cap room, but there is certainly enough to go around if they decide to wheel and deal. They'd have to pitch any incoming free agents on a new Carolina organization, but with up-and-coming players and a veteran leader in Justin Williams on the roster, perhaps they could draw the attention of some of this summer's biggest names.
Photo courtesy of USA Today Sports Images