While the playoffs are ongoing, many teams have already started their offseason planning.  What storylines lie ahead around the league?  Our Offseason Keys series continues with a look at the Edmonton Oilers.
Following a season that saw them make it to the second round of playoffs, expectations were high in Edmonton.  They had locked up two key contributors in centers Connor McDavid and Leon Draisaitl over the summer and they were viewed as a team on the rise.  Unfortunately, things didn't go anywhere near as planned as the Oilers found themselves out of the playoff race pretty quickly which means changes should be on the horizon this summer.  Here are some keys to their offseason.
Free Up Cap Room
The Oilers have nearly $65MM tied up in 16 players already for next season, per CapFriendly with some notable restricted free agents to re-sign, including defenseman Darnell Nurse and center Ryan Strome.  Even with the expected increase in the salary cap, that doesn't leave GM Peter Chiarelli with a lot of wiggle room.
At this point last offseason, many expected that center Ryan Nugent-Hopkins was the likely casualty.  However, he was shifted to McDavid's wing at the end of the season (and continues there at the Worlds with Team Canada) so the odds of him moving appear to be considerably less now.  Defensemen Oscar Klefbom and Andrej Sekera are coming off of down seasons but moving one of them with their value lowered isn't the best asset management.  Kris Russell is a bit cheaper but opinions on him around the league are widely mixed given how prolonged his free agency was two years ago so there may not be a big market for him either.
If they can't find a suitable trade, the other option to try to clear out money is a buyout.  Winger Milan Lucic has struggled since joining the Oilers and carries a pricey $6MM cap hit.  However, since he has five years left on his contract, a buyout would mean they'd be paying him not to play for them for a decade.  That's a lot of long-term pain for shorter-term gain as well.
Regardless of whether it's through a trade, a buyout, or a combination of the two, Chiarelli will need to get creative to free up enough money to address some of their needs over the summer while trying to get back to the postseason.
Decision In Goal
Edmonton has a big call to make between the pipes.  No, it's not the one that saw 6'7 netminder Mikko Koskinen join the team on a one-year, $2.5MM contract earlier this month.  While they hope he will upgrade the backup position, the decision to be pondered lies with their starter.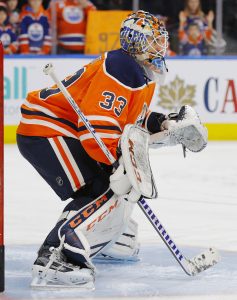 Two years ago, Cam Talbot was one of the better goalies in the league and narrowly missed out on being a Vezina Trophy finalist.  Finally, it seemed as if he was going to be the solution to their long-standing goalie concerns.  That swung back the other way in 2017-18.  His goals-against average (3.02) and save percentage (.903) were both below the league average while he led the league in total goals allowed (188).  Those aren't the numbers of someone who is a long-term solution in goal.
Talbot heads into this summer with one year left on his contract (with a $4.17MM cap hit) which means he's eligible to sign a contract extension as of July 1st.  Does the team still view him as their goalie of the future?  If so, the time may be right to see if a new deal can be agreed upon.  If not, do they instead look to deal him and then either sign a free agent or acquire one in return?  (Koskinen is a big wild card to begin with so it's hard to envision them handing him the number one job right away.)  They can always decide to defer the choice and let next season play out but without a top goaltending prospect that's close to being NHL ready in their system, going that route may be a risky proposition in itself.
Add Defensive Help
This has been a long-standing concern for Edmonton and while Chiarelli has attempted to improve it over the years with the additions of Adam Larsson, Sekera and Russell, more upgrades are required.
In particular, a true top pairing player would go a long way towards solidifying things.  Their current group is a collection of defenders that are better served in supporting roles than logging the most minutes.  Getting deeper has helped the cause but if they want to get back into contention, finding someone that can push those players into roles they're better suited for would go a long way.
However, adding that type of defender is much easier said than done, especially considering their salary cap situation.  Washington's John Carlson can log the heavy minutes and is following up a career year with a strong postseason but he is pretty much out of their price range.  Accordingly, Chiarelli will likely have to turn to the trade market once again where he will hope to make a better move than the one he made to land Larsson two summers ago.
Photo courtesy of USA Today Sports Images.