While the playoffs are ongoing, many teams have already started their offseason planning.  What storylines lie ahead around the league?  Our Offseason Keys series begins with a look at the Buffalo Sabres.
Things were looking up heading into the year in Buffalo.  In came Jason Botterill as GM and Phil Housley as head coach but the more things changed, the more they stayed the same.  Instead of making a push for the postseason, the opposite happened as they finished dead last in the league, creating a whole new set of questions that will need to be addressed in the months to come.  Here are the keys to their offseason.
Determine Their Starter
Three years ago, former GM Tim Murray dealt a first-round pick to Ottawa in a deal for Robin Lehner with the expectation he'd be their goalie of the present and future.  The results were okay early on but have gotten worse each year.  In 2017-18, he posted a 3.01 GAA with a .908 SV% in 53 games, numbers that were below average for a backup let alone a starter.
Accordingly, it's fair to wonder as to whether Lehner is still in the long-term plans, something that is exacerbated by his contract situation this summer.  The 26-year-old is a restricted free agent with arbitration eligibility and sits one year away from UFA eligibility.  (His qualifying offer checks in at an even $4MM.)  This is the time where a team would typically want to commit a long-term deal rather than risking having the player opt for arbitration and a one-year deal but given his recent performance, that's far from a guarantee.
If Lehner isn't in the long-term plans anymore, than Botterill will have to be active to try to find someone who will be.  Youngster Linus Ullmark isn't ready to step into a number one NHL role just yet (and backup Chad Johnson isn't likely to return) so they will have to look outside the organization to find that player.  Unfortunately for Buffalo, the UFA market isn't ripe with long-term options so a trade may be the way they have to go.
Add A Top Defender
Last summer, Botterill rebuilt the defense, adding Nathan Beaulieu, Marco Scandella, and Victor Antipin to give them more mobility.  The idea made sense in theory as the league trends towards a quicker style of play but the results were not pretty as the team had a league-worst -81 goal differential.
What they added in quantity last summer didn't compensate for the lack of top defenders they have.  Rasmus Ristolainen is a quality blueliner but the rest of their back end are role players or youngsters that aren't quite ready for top minutes yet.  That's not uncommon for rebuilding teams but bringing this same group back with another year of experience likely won't change too much.
Top-four defensemen are typically in short supply and high demand but if Buffalo wants to get out of the cellar this summer, finding a way to add one has to be a must for Botterill.
New Deal For Reinhart
Last summer, getting a contract extension done for center Jack Eichel was a top priority and they accomplished that.  This offseason, they have another core youngster to lock up in Sam Reinhart and an interesting decision to make along the way.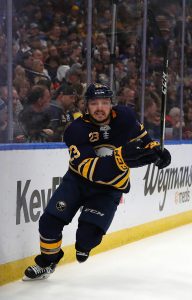 With Eichel and Ryan O'Reilly down the middle, Reinhart spent a lot of this past season on the wing and he responded well with a career-high 25 goals and 50 points.  However, the 22-year-old was drafted as a center but right now, he's blocked.  Eichel isn't going anywhere but could O'Reilly be on the move?  Some of his comments from the end of the season have fueled speculation that he could go which could open up a spot for Reinhart to play his natural position long-term.
As for the contract, has he done enough to bypass a bridge deal?  He has been fairly consistent in his three NHL seasons with his point totals ranging from 44-50.  Does Reinhart have another gear in him to become a top-line player?  If so, then perhaps the time is right for the Sabres to commit long-term.  If they think this is more of his ceiling though, a shorter-term pact may be on the horizon.  It's not as big of a commitment to make compared to the eight years and $80MM Eichel received last summer but a new deal for Reinhart is still a big item on Buffalo's to-do list.
Photo courtesy of USA Today Sports Images.