When last offseason finally rolled around, and the free agent market was about to open, there was one name that clearly led the group. That was Kevin Shattenkirk, considered the only true top-end player available in an otherwise uninspiring group.  The New Jersey Devils were rumored to be interested, as they had huge amounts of cap space and an obvious need on defense. Add in that Shattenkirk wanted to play in the northeast and there seemed to be a nice match.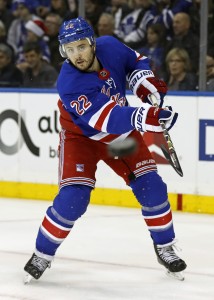 The Devils did go after Shattenkirk, but ended up missing out when the free agent defenseman signed with the New York Rangers, always his first choice. Speaking to Chris Ryan of NJ.com, Devils' GM Ray Shero explained as much:
In the end, he grew up a Ranger fan. And I'm pretty sure if the Rangers were capped out or the Rangers weren't interested, he'd probably be here, on the right type of contract for the right reasons. But you know what? I respect the process, I like Kevin as a person, he's a good player, and that's where it goes.
Ultimately, it may have worked out better for the Devils in the long run. Shattenkirk has been a mild disappointment in New York, struggling through injury and inconsistency in his first season on a team that is now starting a rebuild. The 29-year old has three more seasons on his deal with the Rangers, but might not be in a playoff run the whole time depending on how bare the Rangers' front office strips the roster.
In New Jersey, they found their defensive help in Sami Vatanen after sending Adam Henrique to the Anaheim Ducks, and have taken a huge step forward in the standings. Already six points ahead of their total from 2016-17 with 15 games remaining, New Jersey is in position to return to the playoffs for the first time since losing in the Stanley Cup Final in 2012. They bought at the deadline for the first time in a while, adding Patrick Maroon and Michael Grabner to their young group up front. They also find themselves in another envious position heading into the offseason.
With Maroon, Grabner, Drew Stafford, John Moore and others coming off the books as unrestricted free agents, and Ryane Clowe's contract finally expiring, the Devils project to have somewhere around $25MM in cap space depending on where the ceiling lands. Though they have to think about potential long-term deals for some of their young players down the road, 2018-19 doesn't come with many of those decisions.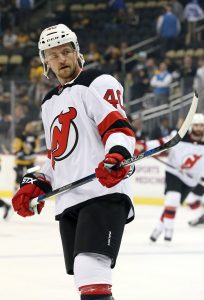 Miles Wood will be a restricted free agent this summer, and has shown enough in his second season to demand a substantial raise on his entry-level contract. But with just 44 points in 125 games, he's hardly in a position to demand a huge cap hit. Any long-term deal with Wood would likely come at a relatively low salary, as he doesn't even have arbitration rights yet.
Any of the aforementioned unrestricted free agents could be brought back, and Brian Gibbons will definitely get some consideration after something of a breakout first half. Gibbons has 23 points in 45 games during a season broken by injury, and could be signed to an inexpensive free agent contract if he decides to stick around.
Other than that, the Devils are free to pursue some of the more interesting names on the market this season. A quick look at our Midseason UFA Power Rankings shows a number of players who could dramatically improve the Devils attack, and give Taylor Hall some more support offensively. Talented wingers like James van Riemsdyk, James Neal and Evander Kane all remain unsigned, while there are several useful defensemen on the market who could strengthen the Devils blue line even further.
The Devils have just four players signed for three or more seasons after 2017-18, giving Shero ample flexibility to construct the team how he wants. After winning the draft lottery and seeing breakout rookie performances from Nico Hischier, Will Butcher and Jesper Bratt, New Jersey looks to be in as good a position as possible heading into the playoffs. Though any postseason games will surely be exciting for their fans, the months following may bring even more fireworks.
Photos courtesy of USA Today Sports Images