The Winnipeg Jets have acquired Paul Stastny from the St. Louis Blues in exchange for a 2018 first-round pick, forward Erik Foley and a conditional 2020 fourth-round pick. St. Louis will retain 50% of Stastny's remaining contract, which will expire at the end of this season.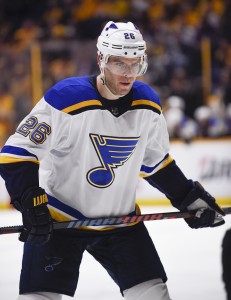 The fourth-round pick will not be sent if the Blues sign Foley, who is a junior at Providence College and could become an unrestricted free agent if he plays out his entire collegiate career and waits until August of 2019 to sign. The Jets' first-round pick is also lottery protected, meaning it will get pushed forward if somehow they end up with a top-3 pick. Winnipeg would need to fall out of the playoff race entirely, which is very unlikely at this point of the season.
Stastny needed to waive his no-trade clause to go to Winnipeg, and it doesn't take much to realize why. The Jets are legitimate contenders for the Stanley Cup this season, and by adding another experienced center will be even tougher to take on in the playoffs. Stastny can slot in behind Mark Scheifele and Bryan Little until Adam Lowry returns, and be part of a nearly six-deep group of centers afterwards. The team will have centers playing the wing, when everyone is healthy, something that is becoming more and more desirable around the NHL.
Though he's not the 70-point first line center of his youth, Stastny still has 40 points in 63 games this season, the fifth consecutive year with 40 or more. Unfortunately, those 805 career regular season games come with just 55 postseason contests, as his teams have had early exits in most of his playoff experiences. He'll get another chance this year, and hopefully be able to take some of the pressure off the top two lines.
For the Blues, this is the second year that they've dealt a pending UFA despite being in a playoff race. St. Louis has had a rough 2018 so far, but like Kevin Shattenkirk last season, have dealt Stastny before letting him walk for nothing even though they still have their sights set on the postseason. He's scheduled to be one of the top center options in free agency, and even ranked #8 on our Midseason UFA Power Rankings.
Stastny is on the final season of a four-year $28MM contract signed in 2014—when Winnipeg GM Kevin Cheveldayoff also pursued him—but will only carry a $3.5MM cap hit after salary retention. That retention isn't to old open cap space for the Jets, but to actually save on salary expenditures over the last few months. The Jets have plenty of room, but aren't a cap ceiling team financially.
Photo courtesy of USA Today Sports Images