As the trade deadline continues to creep closer and closer, we continue our profiles of players that have a good chance to be dealt by February 26th.
Sabres winger Evander Kane is no stranger to the spotlight both on and off the ice.  He also has certainly become accustomed to being the focal point of trade speculation as his name has been in the rumor mill all season long.  At some point over the next week, it's highly expected that he will be dealt.
Contract
Kane is in the final season of a six-year, $31.5MM contract he signed back with Winnipeg in 2012.  He is receiving a $6MM salary with his $5.25MM cap charge and he will be an unrestricted free agent in July.
2017-18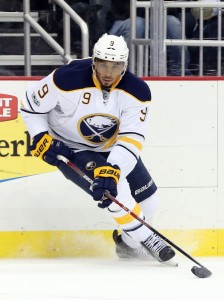 Even though the Sabres struggled out of the gate, Kane got off to a fantastic start offensively and was hovering around the point-per-game mark through the first 35 games of the season (33 points).  Accordingly, GM Jason Botterill set a very high asking price, one that involved a first-round pick, a conditional selection, plus a top prospect.  Based on how he was playing, it was certainly a justifiable ask as well.
Unfortunately for Buffalo, Kane hasn't been able to sustain that level of play over the past two months.  In fact, he hasn't even come close.  In the 25 games since then, he has just six points (4-2-6) despite still averaging over 18 minutes per night of ice time.  Now, instead of being a player providing top-line production, he has produced as a bottom-six winger despite still seeing top-line minutes.  That certainly has hurt Botterill's leverage and has undoubtedly played a role in Kane sticking with the Sabres to this point in time.
Season Stats
60 GP, 19 goals, 20 assists, 39 points, -14 rating, 57 PIMS, 224 shots, 19:22 ATOI, 50.7 CF%
Potential Suitors
In the East, Pittsburgh has expressed an interest previously but their salary cap constraints would require them to free up a considerable amount of space before they could make a deal even if Buffalo retains on his cap hit.  In terms of a fit though, he would fit in well in a secondary role which may be the best role for him to play.  The Bruins are known to be looking for help on the wing although the acquisition cost for Kane may be higher than they're willing to pay.  The Islanders make some sense in terms of where he could fit in but GM Garth Snow has ruled out trading top picks and prospects for rentals which takes them out of the equation.  Columbus is looking for scoring help and while he's not a center – the position they'd prefer to add to, they'll take help putting the puck in the net where they could get it.
Out West, his former team in Winnipeg is looking for a scoring winger but there's no way a reunion is happening with Kane.  Nashville is also on the lookout for help on the wing but Rick Nash is believed to be their preferred target at the moment.  If a deal can't be reached there, they could get involved in talks for Kane.  The Blues could benefit from another top-six winger but like Pittsburgh, salary cap constraints would make a deal particularly challenging as things currently stand.  If Anaheim decides to be buyers at the deadline, they would be an intriguing fit for Kane and have some prospect capital to deal from on the back end, a position that Buffalo needs help with.  However, the Ducks could turn around and be sellers depending on how these next few games go.
Likelihood Of A Trade
Considering there have been no talks about a contract extension, the odds here have to be quite high that Kane will eventually be moved.  Botterill has indicated previously that Buffalo will be willing to retain to help facilitate a trade but they may have to drop their asking price before a deal actually happens.  That's something that the Sabres won't want to do until they have to so this is a case that could drag out right until deadline day on the 26th.
Photo courtesy of USA Today Sports Images.