Maple Leafs winger Josh Leivo is in his second straight season of seeing limited playing time and with it looking less and less likely that this will change in the weeks to come with Kasperi Kapanen coming up from the minors and playing well, he has requested a trade if he isn't going to get more ice time, Sportsnet's Nick Kypreos reports (video link).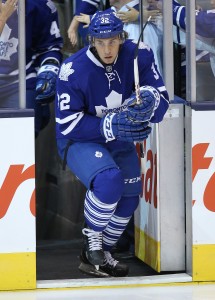 Leivo is waiver eligible which is what has left him in limbo, similar to what had been happening last season with now-Penguins blueliner Frank Corrado.  Toronto doesn't want to risk losing him for nothing as he would almost assuredly be picked up if they were to place him on the wire.
Leivo's agent Ian Pulver spoke to Jonas Siegal of The Athletic (subscription required), indicating that there is no bad blood between the two sides.
Josh is a player who would stand in front of a train for the Toronto Maple Leafs. Josh was drafted by the Leafs and he wants to be a long-time Leaf. He would love to be in the lineup Monday night, and every night thereafter. Having said that, he hasn't been in the lineup for a long time, and hasn't played much in the past two seasons.  He has reached a point in his career where he simply needs to play regularly.
While it looked like Leivo would start to get more playing time following a one-year, $925K extension he signed back in November to avoid potentially hitting Group VI unrestricted free agency, that hasn't been the case.  The 24-year-old has played in just 12 games this season, notching a goal and two assists while averaging just 10:54 per night in playing time.
Overall, Leivo has had a bit of success when he has had the opportunity to play.  Although he has played in just 53 career NHL games over parts of five seasons, he has managed a respectable 10 goals and 11 assists in limited playing time (just 10:57 per game on average).  That should attract some interest around the league, especially since his cap hit of $613K falls below the league minimum salary.
While Toronto is certainly looking to add before the trade deadline, this case may be one where it makes sense for them to take a future asset in return.  The Leafs are currently at the maximum of 50 contracts so picking up a draft pick or unsigned prospect here would free up an opening for them to add a veteran before the end of the month.
Photo courtesy of USA Today Sports Images.