The Toronto Maple Leafs have signed forward Josh Leivo to a one-year extension worth $925K. Leivo was a candidate for Group VI free agency this summer if he didn't play in another 34 games with the club this year. We examined his candidacy in a piece earlier this season, and it clearly looked like the team wasn't ready to give him a full-time role this year. That could chance next season though, as both James van Riemsdyk and Leo Komarov are unrestricted free agents.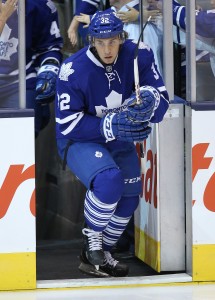 Leivo has an intriguing skill profile for the Maple Leafs, as a big-bodied forward that has a good shot and playmaking ability. While some have questioned his skating ability in the past, he provides good value on the powerplay and has historically never complained publicly about his disappointing situation with the Maple Leafs. Since making his debut in the 2013-14 season, Leivo has suited up for just 46 NHL games and no more than 13 in a single season. That's in spite of the fact that he registered 10 points in that 13-game sample last year, and has performed well at the AHL level. The 86th-overall pick in 2011, Leivo is on the second year of a two-year minimum salary deal he signed in 2016. The $925K doesn't seem like a lot, but will actually be a hefty raise for the 24-year old.
The question now becomes if this is in preparation for life without van Riemsdyk and/or Komarov, or just to protect an asset they believe is valuable as a 13th forward. There is always the chance that Toronto moves one of the aforementioned wingers to improve their defense corps, which would allow Leivo to jump into the lineup full time. The Maple Leafs need quite a bit of cap room to sign their big three of Auston Matthews, William Nylander and Mitch Marner in the near future, meaning players on inexpensive deals like this one will need to be key contributors.
Photo courtesy of USA Today Sports Images