With the trade deadline fast approaching, we will be taking a closer look at the situation for each team.  Where do they stand, what do they need to do, and what assets do they have to fill those needs?  First up is a look at the Buffalo Sabres.
With a new coach and a new general manager at the helm, optimism heading into the season was higher with the hope that Buffalo could turn their fortunes around.  That hasn't happened.  Instead, they find themselves with a lower points percentage than last year and as a result, they are squarely at the bottom of the Eastern Conference.  Accordingly, the approach for this upcoming trade deadline closely resembles the one they've had in recent years.
Record
14-28-9, 8th in Atlantic Division
Deadline Status
Seller
Deadline Cap Space
$25.7MM – full-season cap hit, 0/3 retained salary transactions, 46/50 contracts per CapFriendly
Draft Picks
2018: BUF 1st, BUF 2nd, BUF 4th, MIN 4th, BUF 5th, BUF 6th, BUF 7th
2019: BUF 1st, BUF 2nd, BUF 3rd, BUF 4th, BUF 5th, BUF 6th, BUF 7th
Trade Chips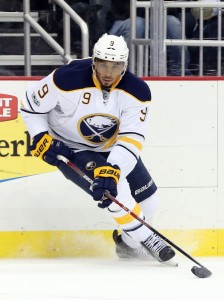 Let's get the obvious out of the way first.  Winger Evander Kane sits as the most prominent rental player available and with his acknowledgement that there have yet to be any discussions regarding a new contract, an extension certainly doesn't appear to be on the horizon.  The asking price as of two weeks ago involved four pieces – a first-round draft pick, a prospect, a conditional selection, and a roster player.  So far, no one has been willing to meet that ask but GM Jason Botterill likely won't be budging much off of that for the next few weeks.  This could be a case that drags out until very close to the trade deadline.
Beyond that, the Sabres will likely be dangling several of their other pending UFAs.  However, those players will be more of the depth variety and won't bring back more than mid-round draft picks.  It wouldn't be surprising to see them look to move one of their goalies to open up a spot for Linus Ullmark to get some more action with Buffalo before the season comes to an end.  Zemgus Girgensons has underachieved in recent years and could be viewed as a change of scenery candidate as well though with one more season left on his deal (with RFA eligibility after that), he isn't a rental player.
Five Players To Watch For: LW/C Zemgus Girgensons, D Josh Gorges, G Chad Johnson, LW Evander Kane, LW Benoit Pouliot
Team Needs
1) Draft Picks: For a team that has basically been in perpetual rebuilding mode in recent years, the Sabres don't have many draft picks of note on the horizon or even many extra late ones to work with.  Kane's eventual trade should yield at least one of those plus a quality prospect even if Botterill can't get his complete asking price.  Moving players like Johnson and Pouliot should give them some extra picks towards the back half of the draft as well.
2) Defensive Upgrades: Buffalo overhauled their defense corps last summer and it's safe to say that it hasn't worked out as planned.  They lack a true shutdown defender and while they are a more mobile unit now, for the most part, it hasn't translated to much in the way of offensive production.  Zach Bogosian missing nearly the entire year hasn't helped either.  It will be difficult for the Sabres to address this too much at this time unless they do so in the Kane trade by getting a blueliner as the prospect involved in the deal.   Otherwise, this is an area that they will likely look to address in the offseason.
Photo courtesy of USA Today Sports Images.