Last we heard, the Buffalo Sabres were looking for a first-round pick, prospect and conditional draft pick for Evander Kane. Despite his excellent goal-scoring talent, that package wasn't seen as a fair return by everyone and some believed it might have to come down before the trade deadline. Instead, it seems like it is actually increasing. Darren Dreger was on TSN radio today and revised his previous reporting, saying now that the Sabres are looking for a roster player in addition to the three previously listed assets.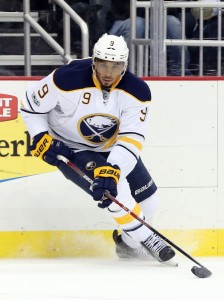 Dreger goes on to speculate about the temptation the Toronto Maple Leafs will feel to move James van Riemsdyk if the Sabres succeed in getting that massive package for Kane, and that temptation wouldn't be limited to them. The Vegas Golden Knights and New York Islanders might both have to consider moving out their own pending unrestricted free agents—James Neal, David Perron and Josh Bailey among them—if the market gets desperate enough to hand over such important assets.
Still, there are likely some who believe that Kane can be a sort of final puzzle piece to a championship roster. With 36 points in 44 games he's on pace for the highest total of his career, and is a potential 30-goal man again this season. Slotting that kind of production into a lineup would certainly make the acquiring team that much more formidable down the stretch.
Looking to last season, two high profile rentals were traded at the deadline. Kevin Shattenkirk (with Pheonix Copley) from the St. Louis Blues netted a first-round pick, Zachary Sanford, Brad Malone and conditional picks (which never materialized). Martin Hanzal (with Ryan White and fourth-round pick) cost Minnesota three draft picks including a first-rounder and a minor league forward.
Perhaps more recently is the example of Matt Duchene, who scored the Colorado Avalanche a roster player, two prospects and several picks, though Duchene came with an extra year of control and needed three teams to figure out the deal.
Kane's case isn't exactly like any of those three, as he's an in-his-prime winger that's capable of contributing in several different ways. But it seems unlikely that the added roster player would be anyone of significance, unless they find a desperate GM around the league. There should be plenty of available scoring threats, and some like Max Pacioretty or Mike Hoffman that come with additional control.
Photo courtesy of USA Today Sports Images