While all eyes are on the Buffalo Sabres as they hold court over the trade deadline, Mike Harrington of the Buffalo News reports something fans are loath to hear: Evander Kane has never been approached to negotiate a contract extension. Instead, he will almost certainly be traded before the deadline for whatever price GM Jason Botterill can get.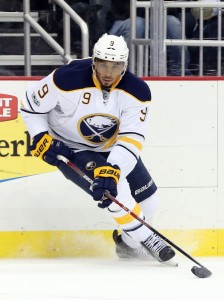 Kane, 26, was acquired by the Sabres along with Zach Bogosian in February of 2015 as part of a huge deal that sent Tyler Myers, Drew Stafford and a package of prospects and draft picks back to the Winnipeg Jets. He was a former-30 goal scorer that had hit a rough patch in Winnipeg but could help lead the Sabres back to the playoffs. After all, Kane was the fourth-overall pick in 2009 and possessed a sky-high ceiling in terms of talent.
Though he never did turn into that superstar offensive talent, able to carry a squad on his back, he has been excellent for the team. Since 2015-16, his first year in Buffalo, he ranks 26th in the league in goals-per-game and is on his way to another big season with 16 in his first 44 contests. Those come along with physical play, good possession statistics and an ability to log huge amounts of ice time, and paint a portrait of an excellent NHL player.
Still, off-ice incidents have haunted Kane. As Harrington points out, ownership in Buffalo was appalled when he was arrested for harassment in 2016, and his name has been in the news time and again for incidents on social media. While that has all seemed to tone down recently, as Kane plays through what looks to be his final season in Buffalo, there was a recent eruption at practice involving Justin Falk. Everyone involved played down the incident, explaining it was just competitive spirit, but impressions persist.
The Sabres have been reported to be looking for as many as four pieces for Kane on the trade market, though Darren Dreger of TSN partially reeled in expectations by explaining that some teams may not be willing to pay that much. Whatever they do get, it does seem like Kane's Buffalo tenure only has a few weeks left at most.
Photo courtesy of USA Today Sports Images