With the trade deadline fast approaching, we will be taking a closer look at the situation for each team.  Where do they stand, what do they need to do, and what assets do they have to fill those needs?  Next up is a look at the Arizona Coyotes.
Despite a new coach and the belief that if they trade for a number of quality veteran players like Derek Stepan, Jason Demers and Niklas Hjalmarsson, the Coyotes could break their string of inept seasons and find themselves moving up in the standings with their core of talented young players. Instead, little has changed as the Coyotes boast the worst record in the NHL and now have to wonder what the next step in building a contender will consist of.
Record
13-32-9, sixth in Pacific Division
Deadline Status
Seller
Deadline Cap Space
$74.7MM full-season cap hit, 1/3 retained salary transactions, 50/50 contracts per CapFriendly
Draft Picks
2018: ARZ 1st, MIN 2nd, ARZ 3rd, ARZ 4th, ARZ 6th, ARZ 7th
2019: ARZ 1st, ARZ 2nd, ARZ 3rd, CAL 3rd*, ARZ 4th, ARZ 5th, ARZ 6th, PIT 6th, ARZ 7th
*- Pick becomes a 2019 second-round pick if the Calgary Flames make the playoffs. 
Trade Chips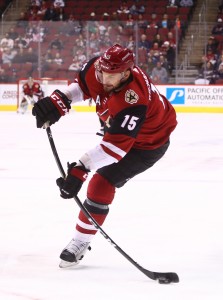 With the team unlikely to move defenseman Oliver Ekman-Larsson at the deadline, the Coyotes don't necessarily have a big name to move as in previous years. There have been rumors the team might be willing to trade Max Domi, the young 22-year-old center who has regressed since a solid rookie season. However, unless the team can get equal value for Domi, its unlikely the team just wants to dump him for little in return.
One legitimate possibility would be winger Brad Richardson. No, the 33-year-old won't provide any of the potential buyers with offense as Richardson provides little. He has just three goals and seven assists this year. However, Richardson is a quality fourth-line player who could add defensive skills to any team's bottom line and can play the center position. His penalty killing skills might be valuable as well to any team that might want to prepare for teams like Pittsburgh, San Jose, Winnipeg or Tampa Bay, whose power play units are deadly.
Five Players To Watch For: D Kevin Connauton; D Jason Demers; C Max Domi; W/C Brad Richardson; D Luke Schenn
Team Needs
1) Impact Players: The team has learned that they need a mix of veterans and youth to make this team into a winner. Despite acquiring Stepan, Demers and Hjalmarsson, the team hasn't improved, but the team still needs more impact players who aren't necessarily in their 30's to help lead the team and can work with some of the young players. The more veterans on the team that are producing, the more likely the youth can step in and begin helping.
2) Draft picks: The team also must continue to develop youth in hopes of developing more youngsters. They have quite a few, most of which have struggled to establish themselves into stars like Clayton Keller, Christian Dvorak and Domi, among many. However, picks will continue to streamline those players in, so the more they have, the better.
Photo courtesy of USA Today Sports Images.