The Vancouver Canucks have been without their top center Bo Horvat since December 5th, after he suffered a broken foot/ankle and was shut down for six weeks. At the end of that game against the Carolina Hurricanes, the Canucks were 14-10-4 and looking like they could potentially compete for a wildcard spot in the Western Conference. Since then, the team has gone 4-11-2 and dropped almost completely out of the playoff picture, but got some good news today.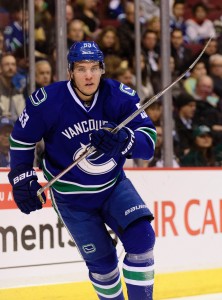 Horvat has been medically cleared to travel and was back on the ice today, and is expected to practice with the team tomorrow. Horvat is "expected to return to the lineup soon" and the team couldn't need him more. In the 17 games since his injury the team has scored just 41 goals, relying on Brock Boeser almost exclusively up front. Horvat's return would make them a much more well-rounded team, and at least offer a chance to be competitive again.
The Canucks were better than many expected to start the year, and have the makings of a good young core of players. With Horvat and Boeser already making their marks in the league, and Olli Juolevi, Elias Petterson and Adam Gaudette tearing up their respective leagues, the future is looking better in Vancouver. In fact, Scott Wheeler of The Athletic (subscription required) recently ranked Vancouver as the best prospect pool of the seven Canadian franchises, with Petterson leading the way at the very top.
Vancouver now sits with 42 points on the season, behind the struggling Edmonton Oilers for second-last in the Western Conference. Though this season may not be destined to end in a playoff spot, Horvat's continued health and development will surely help them get there before long.
Photo courtesy of USA Today Sports Images