Don't get in a fight with Zack Kassian. Brandon Dubinsky learned that the hard way last night, and will now be out six to eight weeks with a fractured orbital bone. Dubinsky and Kassian got into it at the end of the game, but after taking one hard shot the Columbus Blue Jackets' forward doubled over and had to slowly leave the ice. Dubinsky has already been placed on injured reserve, while the team has recalled Jordan Schroeder from the AHL.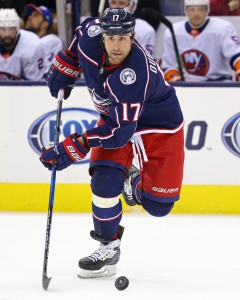 Blue Jackets' GM Jarmo Kekalainen on the situation:
At this time, the damage has not affected the function of his eye and long-term vision. He will continue to be monitored closely by our medical team.
While it is good news that Dubinsky's vision and long-term health doesn't seem at risk, the short-term effect on Columbus could be devastating. Though he isn't performing up to his standards offensively, Dubinsky takes a huge number of draws for the Blue Jackets, especially in their own end. He also logs the most short-handed time by any forward, and is a physical force on the ice. The Blue Jackets haven't been able to get their powerplay working, and with a weakened center group could face even more troubles scoring 5-on-5.
It seems likely that Nick Foligno could return to the center position, something he did at length during the beginning of the season when other players were injured for the Blue Jackets. They'll now need to rely even more heavily on Pierre-Luc Dubois, who has gone from an uncertain roster spot to the top-line pivot in a matter of months. The 19-year old Dubois has played nearly 18 minutes a night during the last ten games, a number that could increase even further with Dubinsky on the shelf.
The injury also could accelerate the Blue Jackets' plan on the trade market, as the team has previously been linked to available centers. They wanted to add one even when Dubinsky was healthy, knowing they had precarious depth at the position. Whether this forces their hand somewhat won't be known until Kekalainen makes a deal, but you can bet teams in the Metropolitan are licking their chops at the chance to unseat Columbus from the top of the standings.
Photo courtesy of USA Today Sports Images