When the Winnipeg Jets took the ice this morning to practice before their matchup with Arizona tomorrow night, Mathieu Perreault was with them. It wasn't in the yellow non-contact jersey he'd been donning lately, but a white sweater indicating he was close to a return to game action. Perreault has played in just five games this season while dealing with injury, a trend that has dominated his playing career. The 29-year old forward has never played more than 71 games in a single season.
Perreault's return and the subsequent assignment of Brendan Lemieux to the AHL had Pierre LeBrun of The Athletic thinking though, as he tweeted out his expectations for the next few months.
Jets lots of depth up front. Other teams looking for help at forward will come calling ahead of Feb. 26 trade deadline.
Indeed, the Jets have one of the more enviable forward groups in the NHL. Even without Perreault—a perennial 40+ point player even despite his injury history—the Jets are 10th in the league in goals per game and boast several budding superstars up front. Patrik Laine has given up his short residence as headline-maker to Mark Scheifele, who has seemingly taken a huge step forward every year of his NHL career. After breaking out last season with 82 points, the 24-year old Scheifele has 21 points in his first 16 games and is showing no signs of slowing down. Team captain Blake Wheeler is riding shotgun with 23 points already, and could challenge his career-high of 78 points set two seasons ago. Wheeler has turned into one of the most consistent offensive players in the league, with at least 26 goals 61 points in each of the last four seasons.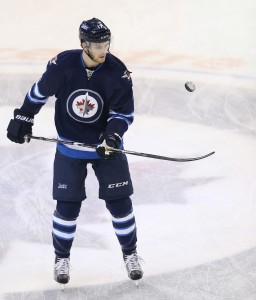 Behind the top group (which also includes Nikolaj Ehlers, a 21-year old speed demon with a 30-goal future) the Jets find themselves flush with talent. Perreault and Bryan Little provide some veteran options, both of whom have plenty of experience at center ice and big scoring upside. But it's the next wave that will allow them to be dealers at the deadline should they so choose. The team can't even find room for Lemieux or Jack Roslovic, who has 17 points in 15 games for Manitoba and is patiently waiting for his chance.
An interesting name to watch out for in Winnipeg (and one that was mentioned in the most recent live chat) will be Adam Lowry. The 24-year old center is a big piece (not just figuratively, as he stands 6'5″) for the team down the middle but is a restricted free agent this summer. The Jets aren't yet a cap team, spending right up to the ceiling every year and have to measure their finances carefully going forward. This summer will bring restricted free agency for Lowry, Jacob Trouba, Josh Morrissey and Connor Hellebuyck among others, while 2019 will have new deals due for Laine and Connor. With the clear need around the league for centers, and Lowry's size, youth and relative inexpensiveness he would be a huge trade piece if the team ever decided to dangle him near the deadline. With the depth they have at center, it wouldn't be crushing to them and another team may believe Lowry can better his 29-point career high if thrust into a more prominent role.
Either way, the Jets are one of the most interesting teams to watch as they head into the winter months. Their solid record of 9-4-3 combined with being one of the youngest teams in the league makes them one to not only consider playoff candidates, but up-and-coming Stanley Cup contenders in the years to come. A few well-timed moves could accelerate that contention.
Photo courtesy of USA Today Sports Images