The Calgary Flames have activated Travis Hamonic off injured reserve (sending Rasmus Andersson to the minor leagues in the process) and now have all of their expected roster active for the first time in weeks. Hamonic hasn't played since November 2nd, while Jaromir Jagr spent time on injured reserve before that. Getting set for the St. Louis Blues tonight, they'll need to continue their recent stretch of solid play if they want to establish themselves as a front-runner in the Western Conference.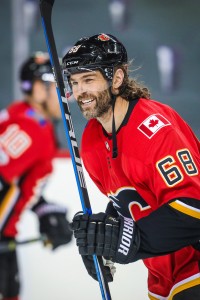 Tonight's game is the final contest in a seven-game home stand, where a win would push their record to 5-2. When the Flames went out this summer and brought in Hamonic and Jagr, they were hoping to be adding some of the final pieces to a Stanley Cup contender. Mike Smith and Eddie Lack seemed to be the answer in net, and while the latter has been shaky in his small role the former has been everything they'd hoped. Smith carries a .924 save percentage into the game against St. Louis, and has registered all nine of the team's wins.
Those nine wins come alongside seven losses, certainly not the record the team had hoped for this summer. After being swept out of the first round by their bitter rival Anaheim, Calgary made calculated moves to improve the areas which they believed were the weakest. Bringing in Hamonic and re-signing Michael Stone (a trade deadline acquisition) to strengthen the right side, giving Smith the reins in net and adding a veteran possession winger to help lengthen out the scoring ability. That perfect lineup hasn't happened yet, but it still could.
Just recently, Jagr spoke about how Flames star Johnny Gaudreau wouldn't have even been in the league when the 45-year old started his career. Jagr said Gaudreau wouldn't have even been drafted because of his size, but called him "impressive" and "special" in the way he can create offense. Gaudreau has been doing all he can to carry the Flames through the early part of the season, scoring 22 points in 16 games and logging over 19 minutes a night. The 24-year old looks ready to prove that his 61-point season a year ago is the floor of his offensive talent, and now he has a full compliment of teammates to get that done.
Photo courtesy of USA Today Sports Images