So much for digging in their heels. The Columbus Blue Jackets have signed Alexander Wennberg to a six-year, $29.4MM contract, ending what has been a long negotiation this summer. The 22-year old was a restricted free agent without arbitration rights, coming off his entry-level contract. The deal will pay him an average of $4.9MM each season, though it is slightly back-loaded:
2017-18: $3.5MM
2018-19: $4.5MM
2019-20: $5.35MM
2020-21: $5.35MM
2021-22: $5.35MM
2022-23: $5.35MM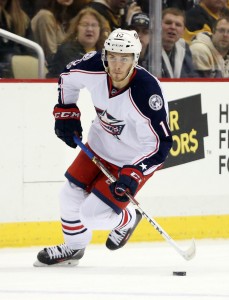 Wennberg posted career highs in nearly every statistical category last season, registering 13 goals and 46 assists for 59 points. That number put him second in team scoring on the Blue Jackets behind only Cam Atkinson, and solidified his reputation as a number one center for the team. Selected 14th-overall in 2013, Wennberg has quickly overcome any doubts in his ability to rack up points at the NHL level. Through 217 games, he has totaled 119 points and could easily set new career highs once again this season.
At first glance this contract seems like a fairly large bargain for the Blue Jackets. Wennberg comes in well below Jonathan Drouin's recent six-year extension, despite the Montreal forward having less experience in the league and scoring fewer points last season. While you can point to Drouin's draft pedigree and dynamic offensive upside, contracts are usually handed out based on actual in-game production which Drouin only leads slightly in a per-game basis. The Blue Jackets will be quite pleased with contract that comes in under $5MM, and it will help them keep their entire core together down the road.
Over the next two summers, Columbus has contracts to give out to players like Atkinson, Artemi Panarin, Boone Jenner, Zach Werenski, Ryan Murray and several more, while a deal for Josh Anderson is still on the table this offseason. Getting a key member of your forward group like Wennberg locked up for a reasonable number is a huge part in keeping your salary structure possible. He'll actually come in as just the fourth-highest paid forward on the team this season, behind Panarin, Brandon Dubinsky and captain Nick Foligno.
Wennberg isn't a perfect player. 21 of his assists came on the powerplay this season, and he needs to do a better job generating shots while at even strength. Though his defensive game has potential to be good enough to lock down opposing top lines, it's not yet at the level of some of the elite centers in the league. He'll never be an overly physical player, but his size does allow him to work capably in the corners and in front of the net. Success in the faceoff dot should be expected down the road, though the team will obviously live with his shortcomings in that area in order to get him on the ice as much as possible.
It will be interesting to see if Wennberg gels with newcomer Panarin, who plays a much different game than the outgoing Brandon Saad but could form a near-unstoppable trio along with Atkinson should they see time together. The three are all gifted offensive players, but could be spread out among the top two lines in order to work with more physical players like Jenner or Dubinsky. Either way, it will be one of the most dangerous forward groups in the league, capable of beating teams in several different ways.
This contract has ramifications outside of Columbus as well, as David Pastrnak and Bo Horvat look for similar long-term contracts. Both players are in similar situations coming off their entry-level contracts, though have different offensive profiles. Pastrnak put up much higher scoring numbers last year, but plays the wing and is 20 months younger than Wennberg, while Horvat has a better two-way game and has a higher draft pedigree. Pastrnak has been looking for a contract that would far outpace this deal, while Horvat's negotiations have spanned everything from a two-year bridge deal to an eight-year pact.
Aaron Portzline of The Athletic reported the financial details of the contract. 
Photo courtesy of USA Today Sports Images