With the NHL season now just a month away, it's time to look at what each team has done this summer and what to watch for in the year to come.  Today, we focus on the Vancouver Canucks.
Last Season: 30-43-9 record (69 points), seventh in Pacific Division (missed the playoffs)
Remaining Cap Space: $1.99MM per CapFriendly
Key Newcomers: F Thomas Vanek (free agency, Florida), F Sam Gagner (free agency, Columbus), D Michael Del Zotto (free agency, Philadelphia), G Anders Nilsson (free agency, Buffalo)
Key Departures: G Ryan Miller (free agency, Anaheim), D Nikita Tryamkin (free agency, KHL)
[Related: Canucks Depth Chart From Roster Resource]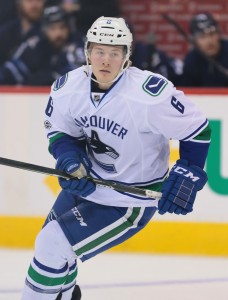 Player To Watch: F Brock Boeser – There isn't a single player on the Vancouver Canucks with as much excitement around him as Boeser. The rookie exploded onto the scene at the end of last year with a goal in his first game, recording five total points in his nine game showcase. Coming straight out of the college ranks, Boeser looked like he had an extra gear for the NHL and continually beat defenders with speed and power. The winger, selected in the 2015 first round has developed quickly at the NCAA level and should be a contender for the Calder trophy should he play in the NHL all year.
After locking up Bo Horvat earlier today for six years, Vancouver fans will hope he and Boeser can find some chemistry together in the next few seasons, and form a dynamic top line duo. While there are other top young players—Sven Baertschi and Markus Granlund in particular—these two will carry a lot of the offensive weight for the Canucks going forward. Boeser is only 20-years old however, so expectations should be held in check. There is no guarantee that he'll adapt to the NHL as quickly as he seemed to this spring, or be able to hold up for an entire season. The acquisition of Vanek could even mean he starts in the minor leagues, should Vancouver think he still has things to learn.
Still, there is a level of optimism around him that continues to rise. In a season where the biggest excitement will likely be how many prospects and draft picks come back at the trade deadline, Boeser should be a shining beacon for the future.
Key Storyline: Daniel and Henrik Sedin enter 2017-18 on the last year of their identical (as one would imagine) four year, $28MM contracts. They're still the highest paid players on the team, and represent the last gasp of a Canucks run that had dominant regular season results and more than a few devastating playoff losses. Turning 37 later this month, it will likely be the twins' last season in Vancouver and perhaps even the NHL. The pair have had dwindling results in recent years, and will give way to the next wave of Canucks talent.
Fans of the team and hockey in general should take a long look at some of their games this year, just to appreciate the dominance and cerebral play they can still create on occasion. It's not often that two players find such chemistry together, and a pair like Daniel and Henrik may not ever grace the NHL again. While it's not exactly a farewell tour, it may be the end of an incredible era in Vancouver, stretching all the way back to that fateful night in Boston, when Brian Burke worked some draft-floor magic in order to select both of them.
Photo courtesy of USA Today Sports Images