The Vancouver Canucks have signed their young center Bo Horvat today to a six year contract worth $5.5MM per season. Horvat is coming off his entry-level contract, and had discussed everything from two-year bridge deals to eight-year extensions. A long-term deal always seemed like the eventual outcome, and Horvat will be giving up two unrestricted free agent years to stay in Vancouver. The deal contains no signing bonuses or trade protection, and the breakdown is as follows:
2017-18: $6.5MM
2018-19: $7.0MM
2019-20: $5.775MM
2020-21: $3.5MM
2021-22: $5.775MM
2022-23: $4.45MM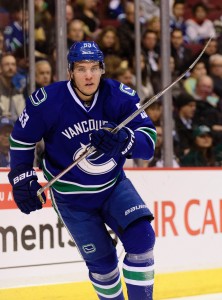 The 22-year old Horvat was selected ninth-overall by the Canucks in 2013, and has turned out to be everything the team hoped for. His game is developing into that of a true number one center, capable of leading a team offensively and playing well enough to hold his own in the defensive zone. In just his third season he topped the Canucks with 52 points, coming in just ahead of Henrik Sedin in a metaphorical passing of the torch. The Sedins, so long the faces of the Vancouver franchise, will start to take a back seat to Horvat and the other young stars coming through the system.
Horvat was never expected to be a dynamic, league-leading type of offensive player. Even in London, where he played his junior hockey with the Knights in the OHL, he took on a two-way role behind Max Domi (now with the Arizona Coyotes) and other offensive stars. He used a heavy frame to do his fair share of scoring, but now there may be even more upside to his game. Horvat's 20 goals included just three on the powerplay, a number that is sure to increase as the Sedin's move on. Interestingly, it also included two short-handed goals, an area which he'll likely excel throughout his career. Like Mikko Koivu in Minnesota, being a number 1 isn't always about putting up 80+ point seasons.
The $5.5MM cap hit is a reasonable number for the Canucks, as other players are being paid more and more just out of the entry-level deals. Horvat's contract will come in at the same amount as Jonathan Drouin, a fellow 2013 draftee that had similar production last year. While Drouin has considerable offensive upside, he also hasn't proven himself at center thus far in his career. He'll have a chance to do that in Montreal this year, but Horvat will likely remain the more natural player in the middle. Alexander Wennberg, another comparable to Horvat just signed a six-year deal for only $4.9MM, which looks better and better for the Blue Jackets as the weeks go on.
Vancouver doesn't have a ton to worry about cap-wise at the moment, as this will mark the last year of the Sedin's current contracts and with it will open up $14MM. With the team rebuilding, there will be plenty of room to fit Horvat's number in going forward. If he takes another step offensively this could even look like one of the biggest bargains in a few years, especially if the salary cap goes up in the coming years (which is far from guaranteed).
Bob McKenzie of TSN first gave us the details and confirmed the deal was done.
Photo courtesy of USA Today Sports Images