Recent comments by Colorado Avalanche GM Joe Sakic has rejuvenated the discussion over Matt Duchene, and where he'll spend the 2017-18 season. While Sakic still seems open to moving him, it would take a very rare occurence indeed to move him before training camp starts: the August trade.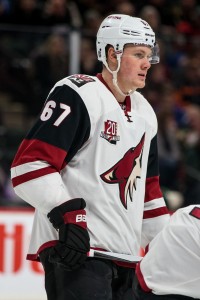 Last year we saw something happen for the first time since 2011, a trade that took place in the month of August in the NHL. That was when the Florida Panthers felt it necessary to move Dave Bolland's contract out of town and found a buyer in Arizona. It would cost them Lawson Crouse, an 11th-overall pick who had just made his professional debut a few months earlier. The Coyotes would send back a third-round pick plus a conditional selection that ended up being a second, because of the immediate impact Crouse had.
The then 19-year old forward broke camp with the Coyotes, and though he scored just 12 points all season, showed himself physically mature enough to handle an NHL season. He led the Coyotes' forwards in hits on the season with 160, and put in valuable development time on the penalty kill.
It's not to say this trade was a steal for either side—the Panthers will likely get a high second-round pick in what is expected to be an extremely deep 2018 draft—just that this is the kind of thing you can expect in the dog-days of August. You have to go all the way back to the summer of 2011 to find the next most recent deals, when Arizona sent Lee Stempniak to Calgary for Daymond Langkow and Minnestoa sold James Sheppard to San Jose for a third-round pick.
August trades are rare in themselves, but August blockbusters are near imaginary. The last real exciting deal may have been the 2008 trade of Andrej Meszaros to the Tampa Bay Lightning. In exchange for a couple of seasons of Meszaros (and an eventual second-round pick), the Lightning gave up Filip Kuba, Alexandre Picard and a first-round pick—who ended up as Kyle Palmieri.
The point is that August is not a time for much wheeling and dealing, and even when it is a player like Duchene is rarely involved. While we hope that changes in 2017, it's not something you should bet on.
Photo courtesy of USA Today Sports Images