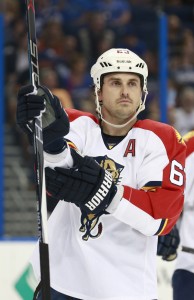 In another shrewd move by Arizona GM John Chayka today, the Coyotes have acquired Dave Bolland and Lawson Crouse in exchange for two draft picks, a 2017 third rounder and a 2018 second rounder. When combined with the deal that Chayka pulled at the draft to take on the Pavel Datsyuk cap hit, essentially in return for the right to draft Jakob Chychrun, the Arizona GM is using his cap space to build a system without paying out much actual cash.
Bolland, meanwhile, is still trying to come back from a variety of injuries and is just an empty cap-hit until he's fit to play again (at which point he'd presumably be bought out, as Florida tried earlier this summer). He's owed $16.5MM over the next three years, but is expected to be placed on long-term injured reserve when the season starts, making much of his deal covered by insurance.
The former Blackhawks has found nothing but pain since he left the windy city, playing in 101 total games in the three years since.  His point totals have dropped to almost negligible amounts, and it seems as though his days as an effective third-liner that could perform at both ends of the rink are behind him.
In Crouse, the Coyotes snatch a player who was drafted 11th overall in 2015 and has future NHLer written all over him. The Kingston Frontenacs forward is coming off another solid junior season where he scored 62 points in just 49 games before making his professional debut with the Portland Pirates of the AHL at the end of the year.  Crouse was regarded in his draft year as a prototypical power forward, capable of scoring double-digit goals while using the full effect of 6'4″, 212-pound frame.
While he may never become a top-line player, he fits in perfectly with the Arizona system as it's currently constructed. With players like Dylan Strome, Max Domi and Christian Dvorak headed for the top-six, even if Crouse never fully reaches his potential he'll have a place on the third line.
The draft picks are both conditional, with the third rounder being the higher of the two Arizona currently owns (their own, and Detroit's) and the second rounder turning to a third if Crouse does not burn a year of his entry level contract (to do so, he'd need to play in at least ten NHL games).
The Coyotes have built an excellent group of prospects over the past few years, using high draft picks and smart moves to add talent wherever they can. With Strome and Dvorak set to make their debuts this season, it might not be long before we start seeing banners being raised to the Gila River Arena rafters.
Elliotte Friedman was the first to break the trade on Twitter, while Craig Custance provided the conditional details on the picks headed back.
Image courtesy of USA Today Images.