Since John Tavares didn't sign a contract extension with the New York Islanders when he became eligible on July 1st, most of the hockey world has started to speculate on what it means for his future. Tavares will be a free agent in the summer of 2018, and will have contract discussion follow him all year like Steven Stamkos a year ago. Though Tavares has never said anything that would make you think he wants to leave New York, many believe the uncertainty regarding their future arena plans and the relative disappointments on the ice throughout Tavares' career could push him to greener pastures.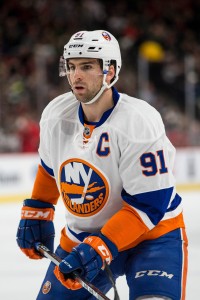 For what it's worth, former teammate and friend Matt Martin of the Toronto Maple Leafs—a long speculated destination for the Toronto-born Tavares—doesn't think so. Martin spoke to Brian Compton of NHL.com about several things including Tavares' pending free agency, and made it clear that he supports any decision his friend will make.
As a friend of mine would it be great to have him? Absolutely. But I want him to do whatever will make him happy and wherever he feels where he can win and be successful is what you hope for.
Like Stamkos, Tavares would enter free agency as a young superstar capable of starting a bidding war between a dozen teams if not more. Top line centers in their prime don't hit the market very often (see: never), and Tavares could easily challenge Connor McDavid for the title of highest paid player in the league should he make it that far. McDavid earned $12.5MM per season but was giving up just four UFA seasons and left money on the table to help the Oilers. Tavares will be just 27 next summer, and would basically have no comparables in free agency since the salary cap was introduced.
The speculation is only going to continue until a contract is signed, even though that may last until after next season like Stamkos last year. The Tampa Bay Lightning forward even met with other teams in the pre-July 1 window, but eventually settled at home for an eight-year deal. A similar script would be a distraction all year for the Islanders, but is a real possibility.
[Mobile users click here to vote in the poll!]
Photo courtesy of USA Today Sports Images