The Vegas Golden Knights have been open with the fact that they expect to acquire more picks as the NHL Entry Draft approaches, and Pierre LeBrun of TSN previously reported that he'd heard talk of a first-round pick in the discussions. Today on TSN radio, Gord Miller expanded on that idea by saying that Los Angeles is a likely partner for the Golden Knights. The Kings would send Dustin Brown to Vegas along with a first-round pick just to rid themselves of his contract.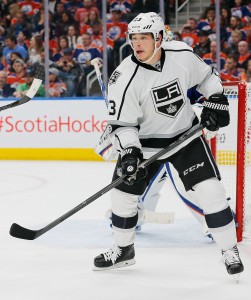 While it likely is just speculation from Miller, the idea that Brown is a perfect candidate for banishment to Vegas is not new. The Kings have two huge problems on their roster with Brown and Marian Gaborik, who combine for $10.75MM per year for the next four seasons. They both are obviously on the downside of their careers, with Gaborik only scoring 21 points this season. The Kings tried to move him at the deadline, but couldn't find a palatable deal. Brown has some leverage on this front as his partial no-trade clause allows a deal to only eight teams that he specifies, making it even harder to move him.
Buyouts are options for the Kings, but with Gaborik rehabbing from surgery GM Rob Blake has already announced he won't use that option with the 34-year old sniper. Obviously they'd rather move Brown out in a trade than a buyout but a first-round pick is a hefty price to pay especially when it comes at #11 this season. The Kings want to compete next season, and moving Brown or Gaborik would help their offseason, but they need to keep an eye on the future as well and make sure that it doesn't cost too much to fix the mistakes of the previous regime.
Photo courtesy of USA Today Sports Images