With five out of six Canadian teams in the NHL playoffs, an interesting question was posed by Sportsnet's Scott Moore: "Ask NBC how they would feel about an Edmonton-Montreal Stanley Cup final."
This isn't to besmirch the great Canadian cities of Edmonton or Montreal or their fans. Instead, it's one of several articles focusing on how Canada is experiencing a rush of hockey pride with Calgary, Edmonton, Montreal, Ottawa, and Toronto all representing the country that gave us all hockey. Sportsnet expects a boon in ratings as a result while announcing blog Awful Announcing looked at how Sportsnet took a bath on ratings last season when not one Canadian team was represented in the playoffs. Viewership fell nearly fifty percent during last year's playoffs, and heads rolled as a result. Much of the article that contained Moore's quotes were from the New York Times.
Now with five teams in the playoffs, what are the expectations? With huge markets Toronto and Montreal in as well as dynamic young stars like Auston Matthews, Connor McDavid, and Johnny Gaudreau all playing for Canadian teams, it's certainly a bright future for ratings in Canada. It's a well earned reward for suffering through a Canadian-less playoff last season.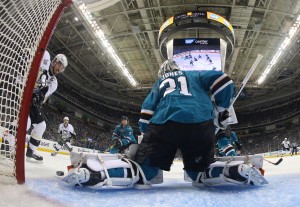 More interesting though was the question posed about American ratings–should it be an all Canadian tilt: would Americans watch? After all, hockey isn't exactly rivaling the NBA, NFL, or MLB in ratings or television contracts in the US. Last season's San Jose-Pittsburgh Stanley Cup Final doesn't inspire hope, either. Anthony Crupi of AdAge mocked the numbers, writing that a paltry four million viewers tuned it, making it the third worst Final rating since 2006 when NBC grabbed the rights. Crupi continues:
By way of comparison, the blowout-happy National Basketball Association finals on ABC are averaging a whopping 18.1 million viewers, a 10.4 household rating and a 6.5 in the demo through the first five games.
Crupi adds that poor scheduling and other sports distractions didn't help, but his writing highlights what Moore called a concern for NBC. Would Americans tune in if it was an all-Canadian matchup?
Honestly, it depends on the matchup. Edmonton-Toronto would pit McDavid against Matthews. That's certainly star appeal–should the NHL market it correctly. And that's what it boils down to-marketing. At this current juncture, the NHL has a handful of young, rising stars who could rival the old Wayne Gretzky–Mario Lemieux arguments that dominated hockey in the late 80's and early 90's. Further, regardless of a team's location, it's about who is on the roster that ultimately matters. Forbes' Alisha Grauso pointed out that last year's Final was exciting–it ultimately suffered from bad scheduling. Additinally, Grauso wrote that hockey fans don't watch to see hated teams lose. In this case, it wouldn't draw an extra few million fans because they despise Sidney Crosby and the Penguins. Grauso's point is that things are as bad as they seem.
So would Americans watch an all Canadian Final? I believe they would. But again, it would be more about the league properly scheduling, and marketing its stars instead of praying a big market team makes it again. Of course, teams with rich histories will always draw well. But it boils down to giving the game a chance to shine on a national stage–something the NHL has struggled to do for a long time.