After helping the Pittsburgh Penguins to a 1-0 series lead last night, Marc-Andre Fleury will be back in net for Game 2 on Friday night. Matt Murray is day-to-day with a lower-body injury suffered in the warm up last night, so Tristan Jarry will be the backup. Murray of course was expected to start for the Penguins throughout the playoffs, but will likely now need to wait for Fleury to falter even when he does return to full health.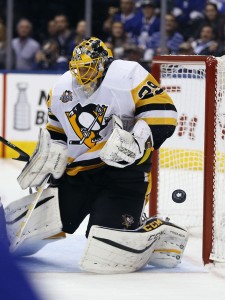 All season people have critiqued GM Jim Rutherford's decision to keep Fleury around, despite the looming expansion draft where he will lose one of his talented netminders. This is exactly the situation he was preparing for, and he looks like a genius now as Fleury stopped 31/32 shots to guide Pittsburgh to a 3-1 win over the Blue Jackets. Fleury's wealth of playoff experience—he's now played in 101 career postseason games—will be relied upon for the Penguins to get past the dangerous Columbus squad and keep their hopes of another Stanley Cup alive.
Interestingly, Fleury actually has struggled over his career in the playoffs, registering just a .906 save percentage. Save for an outstanding run in 2008 to take the Penguins to the finals and some outstanding performances dotted throughout the years, he's been regularly below average when the games mattered most. Perhaps now, when he steps in without much preparation he'll be able to turn things around and stake a claim as the starter for their entire run. He may just be auditioning for his next team, as the Penguins are still widely expected to move Fleury prior to the expansion draft in order to protect Murray. A strong playoff performance could help them facilitate that.
As for Murray, this latest injury comes at the most inopportune time as he was set to show once again what he can do in the playoffs. As a rookie last year (which he technically still is), he registered a .923 save percentage in taking the Penguins to the Stanley Cup, and followed it up with an outstanding first full year. Already locked into a three-year extension which will see him earn $3.75MM per year, the Penguins will be paying pennies relative to the performance he's given them thus far.
Photo courtesy of USA Today Sports Images